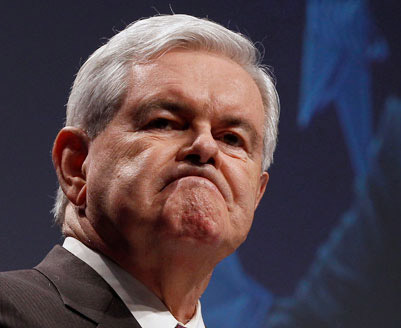 Like I said yesterday, the best thing about Newt Gingrich staying in the race is that the man is completely willing and eager to shank any member of the GOP:
Gingrich never mentioned Romney by name as he spoke to supporters after an underwhelming fourth-place finish in the caucuses, but he did take a couple swipes at the Republican presidential race's front-runner.

"Things that became obvious in the last few weeks in Iowa is that there will be a great debate in the Republican Party before we are prepared to have a great debate with [President] Barack Obama," Gingrich told supporters with his wife Callista standing at his side.

He set the opponents in that debate: himself — "a Reagan conservative who changed Washington in the '80s and '90s," and Romney — "a Massachusetts moderate managing decay."

Gingrich, the front-runner just weeks ago, crashed under the weight of millions of dollars of negative ads aimed at him by pro-Romney political action committees. While Gingrich said his campaign was not going to run "30-second gotchas," he said he did reserve the right to tell the truth.

"And if the truth seems negative, that may be more a comment on his record than it is on politics," he said. "So this is going to be a debate that begins tomorrow morning in New Hampshire, and will go on for a few months."
When you ask yourself why Newt is going on the attack, it's really just a matter of the scorpion and the frog- that is who Newt is. His modus operandi is to just attack, attack, attack, wreak as much destruction as possible, and hope he comes out on top. Just ask Bob Michel. And as you saw when a lot of former House members came forward and cautioned about Gingrich, this is not unknown. He thrives in chaos, in large part because he lives for it, but also because his stream of unmitigated bullshit is held to less scrutiny while everyone is diverted by the blood and guts.
Meanwhile, now is when you will see the establishment go all in for Romney:
Arizona Senator John McCain, his party's 2008 nominee, will endorse Mitt Romney in New Hampshire tomorrow, a well-placed former McCain aide told BuzzFeed Tuesday.

McCain and Romney were bitter foes in 2008, but Romney repaired the relationship after his defeat with a season of determined campaigning for his former rival.

The endorsement will offer the Romney campaign a pivot point after the virtual tie with Senator Rick Santorum in Iowa, and a growing impression that the former governor is uniting the party behind him.
With Bachmann dropping out, and Perry with such a shitty showing, I'm guessing the wild card in all of this is the teahadists who were with those two sinking ships. Will they go to Santorum, will they go for Paul, or will they hold their nose and follow the establishment and go with Romney. If they are true to their words, and hating the establishment GOP the way they say they do, the stream of endorsements about to come out for Romney may actually hurt him. Can Perry survive Iowa and NH and make a stand in SC?
What do you all think?
*** Update ***
What David Corn said.