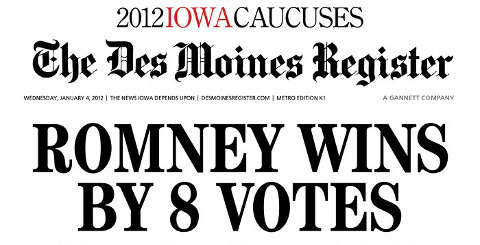 If you read that Weigel post and do the math, 91,000 Republicans voted last night, versus 102,000 in 2008. The raw vote count was slightly higher this year, but that's because Democrats and Independents decided to vote in the caucus, either due to Paulism or lack of anything better to do on a cold winter night. And probably the least electable candidate in the recent history of the Republican Party, a man who will almost certainly be an asterisk in the coming primaries, came within 8 votes (or $2,800, to use a standard unit more comprehensible to the Romney campaign) of unseating the presumptive nominee.   If Santorum had squeezed out a win, we might have to face the realization that Iowa doesn't mean shit. Instead, we'll be talking about whether 8 votes mean anything.
So, if there's one set of participants breathing a sigh of relief other than Mitt, Ann and the kids, it's the DC political-media complex.  A Santorum win would have put expense account steak dinners at 801 Grand in Des Moines in grave danger, and it would also have meant that some new replacement for the Iowa circus would lead to a re-organization of the firmly established pecking order.  Instead, the status quo is intact and the ritual is preserved, as aptly described by Jay Rosen:
My suggestion is that it would be more profitable to treat the Iowa Caucuses as a "ritual," rather than an informational or news event. There may be a modicum of information emerging from the caucuses themselves; they may tell us something–a little bit–about the relative standing of Mitt Romney, Rick Santorum, Ron Paul, Newt Gingrich, Rick Perry, and Michelle Bachmann. But caucus coverage is more profitably viewed as a campaign ritual, in which the tribe of political reporters (like Chuck Todd or Mark Halperin) and pundits (like E.J. Dionne or David Brooks) andpollsters (like, say, Frank Luntz) and operatives (or former operatives like James Carville or Donna Brazille) claim interpretive rights over the election of 2012.

Every four years they gather in Iowa to affirm that their way of seeing is the way to see a presidential campaign. They say they are bringing you news of what happened in Iowa. But what they're really doing is maintaining their little society across yet another election cycle. That is what rituals do. They preserve community over time. […]
One more thing:  at least we won't have to hear anything more about Ron Paul for a while.  All the stars were aligned for a Paul win–there were plenty of crossover voters, he had a pile of cash to spend, and he got lots of media of attention–yet he's almost 4,000 votes behind Santorum and Romney.