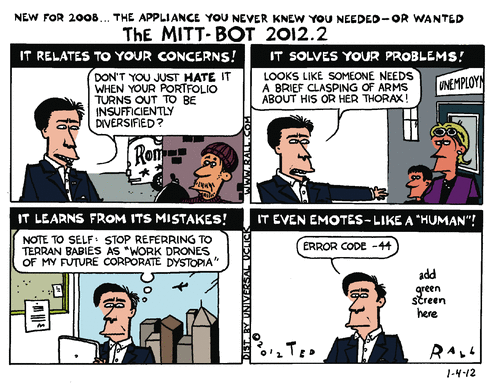 (Ted Rall's website)
__
Jon Chait at NYMag's Daily Intel discusses "The Anti-Romney Resistance":
The basic tension of the Republican nominating contest is that it has had a very strong desire to oppose Mitt Romney, sitting alongside an almost comically weak slate of candidates who can fulfill that oppositional role. Now, with Rick Perry teetering and Michele Bachmann out, the opposition is down to two: Rick Santorum and Newt Gingrich, two washed-up pols who left office in disgrace or landslide defeat, have no appeal to non-rabid Republicans, and little money or organization.
__
Still, the sentiment against Romney is strong enough to keep one or both of them going for a while. The anti-Romney resistance is still breathing…
Details at the link, and also a photo even uglier than a Rall cartoon.
What else is on the agenda in the run-up to New Hampshire this evening?