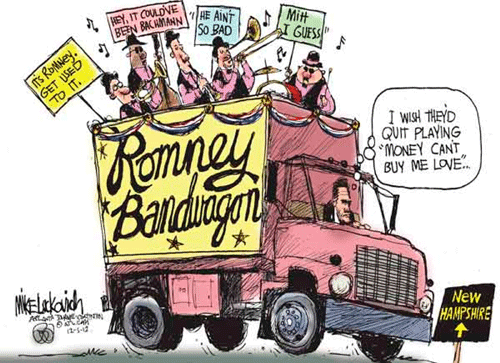 (Mike Luckovich via GoComics.com)
Commentor WarrenTerra points out a hilarious Iowa wrap-up from Paul Constant Seattle's The Stranger, "Necropolis Now":
… It's clear that Gingrich is going to lash himself to Romney's side in a brutal race around the country, slashing again and again at the layers of money protecting the Mormon from the shame and indignities of actual political campaigning. Now that Herman Cain is out of the race, it's the only real entertainment we're looking at for 2012. But hating another candidate isn't a good enough reason for the American public to support a candidate; most Americans haven't met Mitt Romney, after all, and so they don't know how to loathe him on a personal level…
__
After breaking free from the sad-sack horde of ghosts from the bad old days of the 1990s, I speed-walked across the empty streets of Des Moines to the Romney party. It was in a swank hotel—the Hotel Fort Des Moines—and the crowd was noticeably drunker than the Gingrich affair. At the door to the rally, a Romney supporter told me the room was stuffed full.
__
Let's take a moment to reflect on Romney supporters. There are quite a few young ones, and they all look like creepy little jerks. They are obviously born of wealth, their pale skin moisturized as much as human skin can be moisturized, their teeth perfect and white, their hair leavened with a dollop of extremely expensive product, their costly clothing hanging perfectly on their toned bodies. Hiding behind their smiles is an intense hatred for any humanity that does not look like it trotted right over from the country club. But, oh! Those smiles! It took me a moment to realize that the Romney supporter was telling me that the room was full and I couldn't get in due to fire codes, because his body language was completely detached from what his words were saying. His broad smile and gimlet eyes seemed to suggest that he'd just asked me to be his best friend for ever and ever, even as he was denying me entrance into a place I wanted to go. Underneath those textbook-perfect manners and impeccable optimism lurked something nasty. It reminded me of that scene in the movie version of Cabaret when a young, beautiful blond man stands up at an outdoor cafe and bursts into song. For a moment, you're struck by his health and vigor and the depth and perfection of his voice. And then you realize—not just contextually; your subconscious knows there's something wrong, possibly because there's a rheumy milkiness hiding somewhere underneath that Aryan skin—that oh, no, wait. This guy is a Nazi, and his proper behavior is barely concealing a burning hatred for the human race…
So, apart from nasty faux bonhommie, what's on the agenda for the weekend?