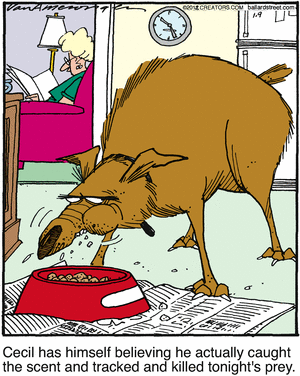 (Jerry Van Amerongen's Ballard Street via GoComics.com)
Mr. Charles P. Pierce at Esquire reminds us why Mitt Romney is unemployable:
… It's becoming abundantly clear that, all Santorum aside, this election is fundamentally going to be about class. The Republicans already have talked about blue-collar jobs and middle-class anxiety more in this cycle than they have in the previous two or three combined. And, even if the Republicans had given the whole business a good leaving-alone, the White House is going to force the issue anyway. Unemployment is not going to drop below eight percent before the election. The income gap is not going to go away, either. The basic inequities forced on the country by the looting of the economy in the first decade of the century are alive and well. They are going to bite hard at both parties. But only one candidate is so uniquely vulnerable to their political effects.
__
Let us be absolutely sure of one thing: Willard Romney could have been functionally unemployed for his entire life and not known there was any other way to live. He no more knows the existential dread that people feel in this economy than he knows what a boot feels like when it steps on an ant. The job that made him spectacularly wealthy, as opposed to simply rich, involved exploiting that existential dread for profit, and for the benefit of investors just as heedless of it as he is. I don't know why his campaign insists on trotting him out as the great friend of the embattled middle-class. They might as well just dress him up as a chicken and send him out to talk about agricultural policy. I suspect, though, it just might have a little something to do with the Occupy people who, as we all know, have no coherent agenda that anyone can identify.
Speaking of couch potatoes with feral fantasies, are they still telecasting football on Monday evenings?