I'm "working" on a couple of more substantive posts (look for them sometime in the next Mayan long calendar) and I'm at least trying to work on what they actually pay me for, so blogging is a notional activity right now…
But by every pasta tendril undulating off the blessed FSM, how in the name of strozzapretti can one pass up this (via TPM):
"You have to ask the question, is capitalism really about the ability of a handful of rich people to manipulate the lives of thousands of people and then walk off with the money?"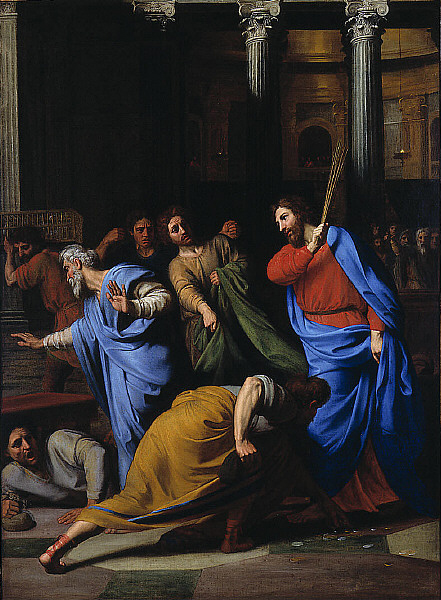 Damn good question, actually, and even better when asked by one Newton Leroy Gingrich of the current GOP frontrunner-by-default, the Hon. (sic!) Willard Mitt Romney.
Combine that with the "documentary" Newt's people are putting out there (well, a  Super PAC that, of course, has no actual contact with the Gingrich campaign, but sure as hell knows what to do), and  Rick Perry's quotable quote from the campaign trail South Carolina — and what you have is our friends across the aisle working on their own damn circular firing squad for once.
Popcorn, aged tequila, and Republicans going all "we are the 99%" on each other.  What more could this city boy desire?
(PS:  Hey John. Consider this a get-well card.  There are joys in life even after the Steelers stop playing. Really.)
Image: Nicolas Colombel Christ Expelling the Money-Changers From the Temple, 1682.