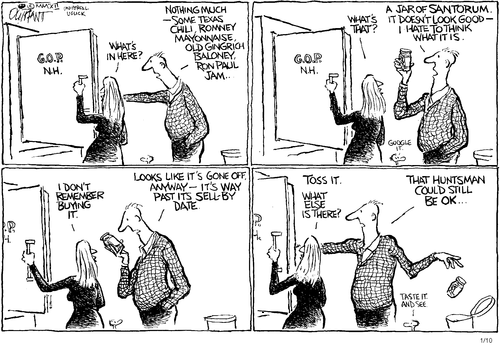 (Pat Oliphant via GoComics.com)
__
Even the "horserace" reporters are bored. Walter Shapiro at TNR on "the least exciting New Hampshire primary ever":
Rochester, N.H.—Having emerged unbloodied Sunday morning from the weekend's debate double-header, Mitt Romney barreled down Route 101 at more than 80 miles an hour towards a noon rally at the Rochester Opera House. (I can verify the speedometer reading since the Romney campaign bus zoomed past me in a 65-mile-an-hour zone and I tailed it until it turned off the highway). The front-runner's haste was understandable, since Romney wants this primary inscribed in the record books before his double-digit lead vanishes…
__
Romney's stump speech includes a patriotic reading of stanzas from "America, the Beautiful," ostensibly to prove that no one (certainly not that Europe-emulating president named Obama) can match his star-spangled patriotism. Listening to Romney, though, I was mostly inspired to recall the great Senate filibusters of yore, when exhausted legislators would read aloud fragments of poetry and pot-liquor recipes to run out the clock.
__
The sad thing—for those of us who love the spirited competition and hairpin turns of traditional New Hampshire primaries—is that Romney almost certainly will get away with his evasiveness. As a reporter chronicling his ninth New Hampshire primary (dating back to the days when George Bush boasted that he was "up for the Eighties"), I can recall no contested race in either party this devoid of energy. It feels like the primary is being conducted underwater, with every movement slow and exaggerated…
Apart from inattentively waiting for the statistically meaningless results of said lackluster 'contest', what's on the agenda tonight?