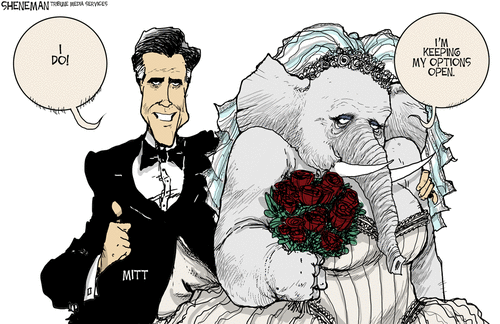 (Drew Sheneman via GoComics.com)
__
Charlie Pierce at Esquire reports that Corporate Raider Willard Romney can't stop crushing the humble dreams of the local small entrepreneur:
Eric Fehrnstrom… was pivotal in the freak election that put Senator McDreamy in Ted Kennedy's old seat, and he now he is almost a key player (again) in the presidential campaign of Willard Romney. Along the way, he's developed a reputation for being rather a dick, especially to reporters, but also to other candidates, including one case in which he got exposed as the world's clumsiest ratfker…
__
Anyway, the gossip around the Massachusetts GOP — which is a small enough group that gossip can circulate at speeds at which matter is spontaneously created — is that some people in McDreamy's re-election campaign have begun to complain that Fehrnstrom is spending too much time with Willard and not enough with their man, who's in a much tougher fight with Elizabeth Warren than Romney is with the assemblage of second-raters in the Republican primary. It's hard to see how Fehrnstrom can keep both of those balls in the air at the same time and, if he can't, my guess is that McDreamy is the loser. This will not be a good thing for that campaign.
Good news for Elizabeth Warren is good news! What else is on the Reality-Based Community agenda tonight?