I'm no expert on the Looney spenders up in America's Hat, but my in my travels to that exotic land, I have noticed that they really are invested in being a country that everyone loves. Yesterday, the Harper government shat all over that when a federal Department of Justice lawyer filed a brief in a divorce case saying that gay marriages performed in Canada were not legally recognized if they were illegal in their home country. Harper and his Justice Minister tried to walk it back in a pretty mealy-mouthed way (saying their government "has no intention of reopening the debate on the definition of marriage"), but today's Globe and Mail is full of mourning over the damage to Canada's reputation:
"Sanity will prevail," said Kevin Bourassa, the Toronto resident whose legal battle to wed Joe Varnell opened the door to legalizing same-sex marriages in Canada. At the same time, he recalled American gay couples singing O Canada when they came to Toronto to get married.

"They were so proud of this country. I wonder what they feel now," Mr. Bourassa said.
Taking a page out of Tom Levenson's book, I think it's time to post a work of fine art to help turn the Canadian frown upside down: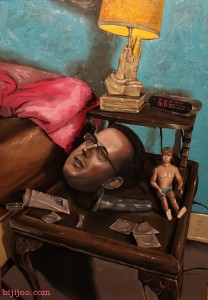 It's called "Still Life with Rick Santorum, Lube, Dildo and Justin Bieber Doll" (via) (click to embiggen). More from the same artist here.