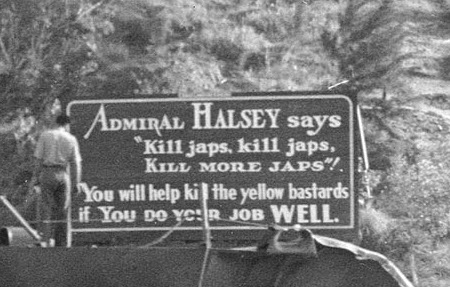 Nobody's posted about the video of Marines pissing on dead Taliban soldiers, so even though it's somewhat old news, I just want to disagree with the idea that the ubiquity of cameras adds a new transparency to war:
First, there's the new transparency of war. Infinitely more battlefield details get recorded, and everyone has the tools to broadcast these details. So it's just a matter of time before some outrageous image goes viral–pictures from Abu Ghraib, video from Afghanistan, whatever. These images will make you and your soldiers more hated by the enemy than ever–and hated by civilians who may identify with the enemy, whether because of national, ethnic, or religious kinship.
That's Robert Wright at the Atlantic, but you hear that kind of thing all the time. I'll grant that the Internet is faster, and that more cameras exist, but there were plenty enough cameras even in World War II to capture the dehumanization and mutilation of that enemy. The photo at top is of Bull Halsey's famous exhortation to the troops after Pearl Harbor, and here's a shot from Life Magazine, May 22, 1944, captioned "Arizona war worker writes her Navy boyfriend a thank-you-note for the Jap skull he sent her":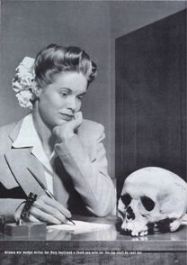 There's an excellent and well-illustrated Wikipedia article on mutilation of Japanese war dead. It went far beyond pissing on corpses.
My point is that this is what happens in war, our society has been exposed to it in the past even without YouTube, and the reason that it's not commonplace knowledge is that most of the recent chroniclers of WW II chose to ignore it when they created their Greatest Generation hagiographies. If you're interested in a real accounting of the attitudes surrounding World War II, I'd recommend Paul Fussell's book Wartime.