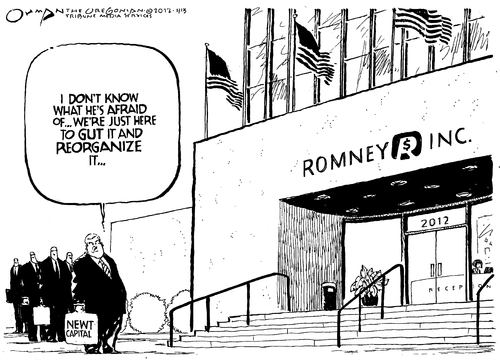 (Jack Ohman via GoComics.com)
__
At this point, I guess Newt the Destroyer and across-the-field injuries is the most entertainment we can hope for. Fox News is responsible for this one, two full hours live (well, life-like) from the South Carolina vacation spot, starting at 9pm. Not gonna try livestreaming from Darth Ailes' site, which keeps crashing my desktop, but fortunately Richard Adams and his fellows at the Guardian will be liveblogging:
… There's two vital questions at stake in tonight's Republican presidential debate in South Carolina – well, three if you count "Another debate?" as a question. The first is: Can Mitt Romney be stopped from winning the GOP presidential nomination? And the second is: Which one of the remaining losers on stage tonight is going to stop him?
__
One hates to (as the British say) micturate on your french fries, but the answer to the first is "no" and to the second is "duh".
__
Should Romney win the South Carolina primary next Saturday – and the latest polling suggests he will – then that effectively ends the GOP contest. The only way that story line is going to change is if Romney doesn't win the South Carolina primary, and probably the only way that will happen is if he is figuratively disemboweled by his debate rivals, namely Newt Gingrich, Rick Santorum, Ron Paul and Rick Perry.
__
That's why tonight's debate – and the following debate on Thursday, also in South Carolina – are so important for the shrinking "anyone but Romney" segment of the Republican party….
***********
9.43pm: Asked why he hasn't released his tax records, Mitt Romney basically says "I'll do that when I'm the nominee"
…. and after the Board has signed the contract spelling out the details of Willard's golden parachute, should he fail to achieve Leadership in his new postion…
***********
WIN:
Old Dan and Little Ann – January 16, 2012 | 10:19 pm
__
The Hope of the World needs MORE GUNS! – Shorter Willard
***********
LOL:
Brett Smiley at NYMag's Daily Intel:
Responding to a question about gun rights in Fox News' Republican debate, Mitt Romney feigned an interest in hunting. It was an uncomfortable moment. Romney said that he's not a great hunter but he's happy to go when he's invited. Are you out there, Mr. Cheney?
***********
Richard Adams, again:
Oh, Fox News has a Twitter gadget showing if viewers liked or disliked candidate's answers. Looks like everyone thinks Mitt Romney is an evasive charlatan. This probably makes him a more attractive candidate.