…for being able to uncork lines like these:
"This crowd that they have there, it's not exactly what you would call the first string of the Republican Party," House Minority Leader Nancy Pelosi said during an interview hosted by Politico. "I think that they can do better than that." (h/t GOS)
Testify!
The once and future Speaker called the current field the "third tier," which sounds about right, if perhaps a little generous.  (I'm not sure they make it past low-A ball, myself, and for some, the ceiling might be the Cape Cod League.)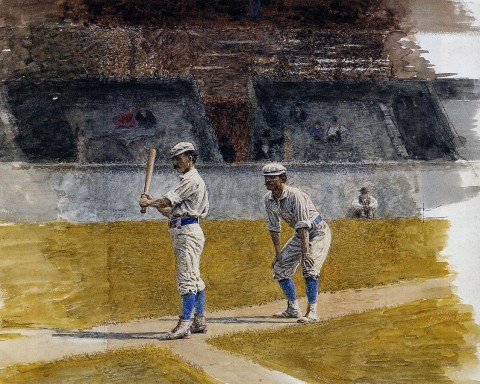 But what I really like is the way she can speak instantly recognizable truth whose sharp edges do or should twirl the intestines of our GOPster friends like spaghetti on Pavarotti's tines:
"If the far right thought that Romney could win, they might be more enthusiastic about him," she said. "But they question what he stands for, and they don't think he's going to win, so what's the sell?"
Heh.
I do love me some fine Nancy Smash.
Image:  Thomas Eakins, Baseball Players Practicing, 1875.