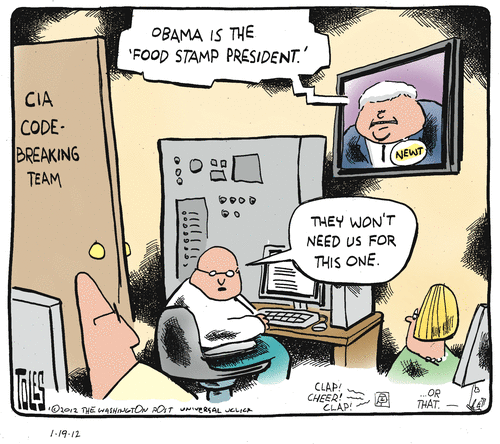 (Tom Toles via GoComics.com)
This one's sponsored by CNN, out of Charleston. Richard Adam's Guardian liveblog here.
***********
Stolen from earlier thread, Because of Wow:
The Other Chuck – January 19, 2012 | 7:06 pm
__
Newt asked Callista for an open marriage so he could FUCK ALL 300 MILLION OF US.
***********
From the Guardian:
8.33pm: Our correspondent Ewen MacAskill is at the debate venue here in Charleston and gives his thoughts on Newt Gingrich's beat-up of CNN's super-dumb questioning about his second wife:

It was a good tactic for Gingrich to shift the onus onto the media, criticising John King for starting the presidential debate with it. Media-bashing proved popular with this Republican audience and probably goes down well nationwide. It has worked for Gingrich in earlier debates.
__
But maybe he made too much of it, going on just a bit too long. Many millions watching would have been unaware of the Marianne Gingrich interview: the former House speaker has just provide great advertising for the ABC interview. He has just ensured many of them will be tuning in to hear it…
Let's hope ABC takes full advantage. Juicy details of all three marriages?
***********
9:06pm: Asked when the candidates should release their tax returns, Newt Gingrich quips "an hour ago" (he has just released his). Ron Paul says he hasn't because he earns so little he's embarrassed. And somehow Mitt Romney blames Obama for insisting on it – which is weird.
__
"I want to make sure I beat President Obama and everytime we release things we get drip, drip drip … my taxes are carefully managed," says Romney.
Next ad from President Obama's re-election campaign: Do you think a guy who can't take responsibility for 'carefully managing' his own taxes is capable of leading America in this big, messy world?
***********
9:53pm: We are in the final strait of this debate, and the candidates are being offered a final statement, although in a stupid way, the choice being offered is: should South Carolina vote for Mitt Romney or not?
__
Who is writing your questions, CNN? An drunken intern, it would seem. Possibly a not very bright drunken intern.