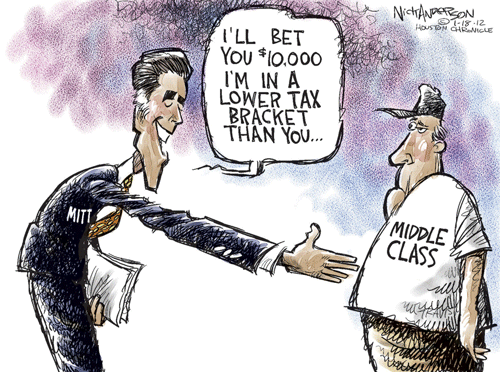 (Nick Anderson via GoComics.com)
Erick "Voice of the Gated-Community GOP" Erickson did not have a happy Hump Day. First, his fervent plea to man-crush Rick Perry to become "the catalyst and kingmaker so many have been looking for" — by dropping out and endorsing, gawd save the marks, Newt Gingrich — was not well received among the RedState faithful. (I haven't read all 600+ comments, but the only concensus seems to be that Romney is an untrustworthy flip-flopping quasi-liberal RINO who will inevitably lose to President Obama. Go, Team Dem!) Later, the day's events reduce him to mingling tears with Senator James DeMint (R – Crazification Factor):
Republicans in Congress cut deals with Democrats. The Republicans' favorite reporters and pundits tell us just how awesome those deals are. Then those deals blow up in our faces…
__
On Facebook yesterday, Senator Jim DeMint noted this folly. Republicans were supposed to have big wins on the debt ceiling and on the Keystone XL Pipeline. They told us they had played the Democrats. Instead, we played ourselves. From Senator DeMint:

The two political victories leading Republicans planned on celebrating today only showcase how much we have to lose by compromising with the Democrats.
__
The non-binding vote of disapproval on the debt ceiling increase held in the House today and the Obama Administration's decision not to authorize the Keystone Pipeline were supposed to be excruciating political exercises for the Democrats. They turned out to be a walk in the park.
__
Instead of generating a great public uproar over the debt, economy, and jobs, all President Obama had to do was reiterate his long-held positions—that the debt ceiling should be increased and the Keystone Pipeline should not be authorized.
__
Giving the President exactly what he wants and then asking him to remind the public that he wanted it after the fact isn't a strategy to win. It's a strategy to cover-up a stunning loss under the guise of a compromise.
That's right, Senator DeMented… the GOP's big failure has been too much compromise with that crafty fella in the Oval Office. It's almost as if President Obama were smarter than you guys…