If you, like me, lacked the foresight to choose multimillionaire parents, you've probably experienced a series of shit jobs at some point in your life – low-paying, unpleasant employment for which you were nonetheless at least grudgingly grateful because, you know, food.
Mitt Romney chose his parents so wisely that he never had to worry about that sort of thing. The twaddle about fretting over a pink slip? A big fat lie: Romney had a no-risk deal at Bain. Probably the hardest thing Romney ever had to do was bicycle through Provence to pester the French about the Angel Moroni. Quelle horreur!
But Romney may be right about the envy thing. I for one would love to float through a privileged, risk-free existence where the skids are always greased and the only real worry is the possibility of exposing myself to jeers at the country club for using an oyster fork to attack a fruit salad.
Still, I don't think it's necessarily envy, but rather a desire to share my more plebeian experiences with the one-percent. So here, forthwith, are the three crappiest jobs I ever personally had (in descending order) with Mitt enjoying the character-building aspects of each:
Pizza Hut Server
This was back in the days when wait staff were required to sling pizza in scratchy, odor-absorbing brown polyester uniforms (images unavailable on the internet). My particular Pizza Hut was located next to an interstate highway and subject to mass invasions of retirees on their way to cruise ports.
The sight of those cheap bastards disembarking from the charter bus and shuffling toward the restaurant occasionally caused less hardy waitresses to chuck their brown visors into the trash and leave for more profitable ventures, like plasma donation. Enjoy your dollar tip on that ten-top, Willard!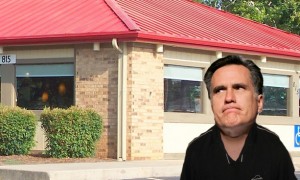 Cucumber Picker
To this day I can't stand fucking cucumbers! Did you know the phallic bastards grow on extremely prickly vines? And that they do it so close to the earth that it will make even a young woman's back ache long before 10 AM?
Willard, the hard choice is whether to wear hot, sweaty gloves in the 100-degree heat or subject your exquisitely manicured, alabaster hands to merciless gouging by the vines. I recommend the latter. Oh, and screw you, Mount Olive Pickle Company.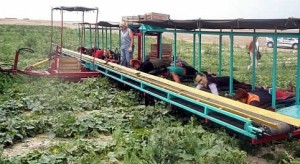 Crab Sorter
Yes, this is an actual job that I performed for a couple of days, and despite the fact that it involved the crustaceans rather than the pubic lice, it sucked. The crabs I sorted were destined for a happier fate than Old Bay and boiling water; they were to become aquarium pets.
To perform the sorting ritual, you had to plunge your hands into a crab-infested tank, pull out a specimen and determine its size by fitting it into a little wooden frame, then sort it into the appropriate bucket. The thing to remember here, Willard, is that the crabs don't enjoy this process. At all. They express their displeasure by pinching the ever-loving shit out of your fingers. And don't even think about trying to wear gloves because the smaller ones will find their way inside. I still have nightmares.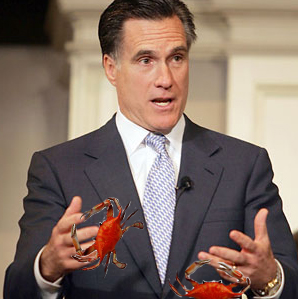 So, what horrid job from your past would you assign to Willard?
[X-POSTED at
Rumproast
]