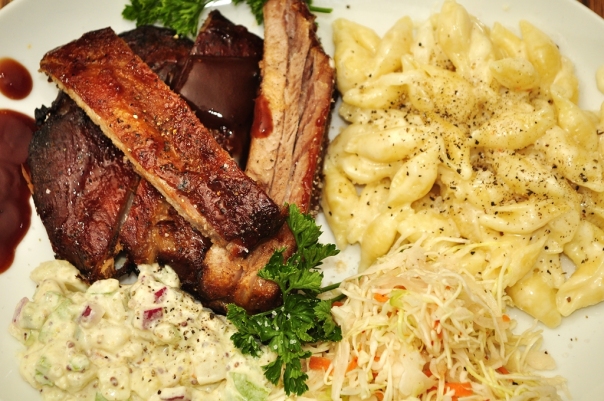 (Photo from JeffreyW's mouth watering collection)
New weekly feature — assuming y'all respond as you should. Welcome back to TaMara, Recipe Goddess of What's 4 Dinner Solutions:
Aloha Balloon-Juicers. I'm back. I wish I could say I was back from a long trip abroad, but no, life has just been very busy. That has not changed, but after quite a few requests, I think I have figured out a way to bring recipes back to Thursday nights with the limited amount of time I can devote to it. Unfortunately, for now, I won't be doing full menus.
__
What I proposed to John and Anne Laurie was to have a recipe exchange. Each Thursday we'd have a theme (I'm a sucker for a theme) or an ingredient to focus those recipes (but by no means restrict them) and everyone could share their favorites. Each week I'll give you the next week's ingredient or theme so you have a whole week to think of something great to share. Anne Laurie would probably gladly accept photos, too.
__
Now I expect all those people who emailed me and touched base with me in open threads wondering when I might post recipes again, to participate in this endeavor. Don't make me come in there!
__
This week we're starting out simple with my favorite comfort food and a recipe I thought many of you would have a favorite variation they could share. Like most of my recipes, this is pretty simple and even a novice cook should be successful. Experienced cooks will tweak it beyond recognition, as all good cooks do.
__
Next week our secret ingredient will be spinach. So come prepared to share a favorite recipe with spinach in it, in some shape or form. Here's some baked macaroni and cheese to start things off. Hope you enjoy – TaMara (BHF)
__
Baked Macaroni & Cheese
__
I like mine garnished with fresh chopped tomatoes and jalapenos.
__
12 oz elbow macaroni
2 tbsp flour
3 tbsp butter
1/8 tsp onion powder (about 2 shakes)
salt & pepper to taste
2 cups milk
3 oz shredded cheddar cheese
3 oz shredded jack cheese
4 oz crushed potato chips
large sauce pan, small sauce pan, large casserole dish
__
Bring water to boil in large sauce pan, add macaroni and cook according to package directions. In small sauce pan, melt butter, add flour, onion powder, salt & pepper blend well and then add milk. Stir constantly over medium heat until bubbly, add cheese, stir until melted. Drain macaroni, put into casserole dish, stir in cheese sauce, top with crushed chips and bake 20 minutes at 350°, until top is light brown and cheese is bubbly.
__
Click here for a Green Chili Macaroni and Cheese recipe and click here for a Chipolte Macaroni and Cheese.