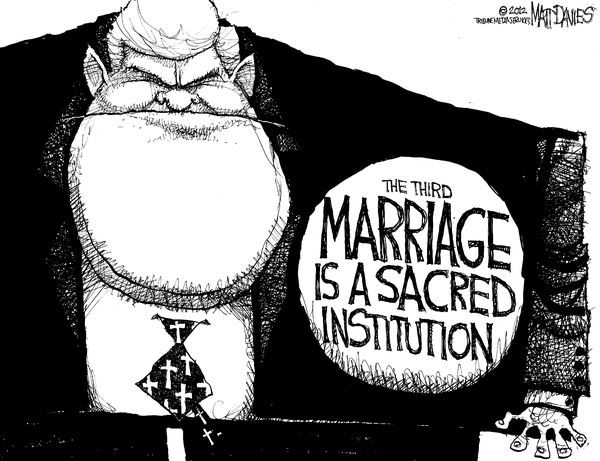 (Matt Davies via GoComics.com)
Is it just me, or does it seem that Marianne Gingrich's discussion with ABC of her ex-husband's "grandiose" ambitions may just possibly have some relationship to the recent media-fluffing of her replacement? The traditional political media, as per the New Yorker's recent article on "The Good Wife", can't seem to decide whether Callista is Lady MacBeth, as played by Joan Collins in her highest-camp Dynasty mode…
… "Newt does things for her," Rick Tyler, a former Gingrich campaign spokesman, told me. "He never played golf before Callista was around, even though that's what you do as a politician, but he plays now, because she does. You would never find him at the Kennedy Center at the opera, but now he's a member." In New Hampshire, Gingrich described having his wife on the campaign trail as "extraordinary—it's like everything else about hanging out with her." He added, "If she wasn't with me, who would fix my hair in the morning?"…
__
According to current and previous staff members and friends, Mrs. Gingrich wields a great deal of decision-making power. Of the notorious Greek cruise, one former Gingrich strategist told me, "She said, 'Either go on this vacation or we're done.' " There were rules, he said, about "how many nights he could be away and what time he had to be home for dinner—which led to a huge abuse of private planes which we could not afford. There's a sense that, I'm not gonna have a third failed marriage."
… or just a devout Christianist tootsie from America's Heartland(tm), a throwback to a simpler time:
… In the unlikely event that Callista Gingrich did become First Lady, she would be unusually well suited for the position. She is good with children, bending down to touch their hands in Manchester, hoisting them onto her lap to meet her elephant at Mount Vernon. She told me that if she were First Lady she would focus on promoting music education—precisely the kind of uncontroversial passion that plays well with everyone, like Laura Bush's crusade against illiteracy. She has an old-fashioned politeness that borders on primness, and she ends many interactions with the words "God bless." Throughout his political career, Newt Gingrich has tried to summon voters' nostalgia for a bygone and probably imaginary America; he has spoken longingly of the kind of small Midwestern town where "a lot of Norman Rockwell still exists." Callista is from that place.
__
She does not seem like a forty-five-year-old, or at least not like a forty-five-year-old of this era. She has the style and smile of an astronaut's wife, even in her downtime. Once, in Cedar Rapids, I happened to run into her in the women's bathroom at the airport. In her suit and pearls, with her stiff coiffure, she looked as if she had just exited a beauty parlor in 1962…
That particular reference did jog an image loose in my memory, though — and it may even have something to do with the question as to why Gingrich has perservered despite all setbacks with a campaign that most political observers assumed was just an elaborate scam for expensing his latest book tour and the Gingrich brand. Callista, gods help us all, wants to be Jackie Kennedy. She sees herself in a tasteful Chanel-knockoff suit, standing with a ladylike Mona Lisa smile just behind and to the right of her First Gentleman, improving the tone at the White House with refined PBS-style classical concerts (where, unlike that spoilt rich kid Zhack-leen, Callista can perform her own French horn solo). Even her peculiar hairstyle — that well-lacquered "swoop" over one eye — is an interpretation of Jackie's famous early-1960s hairdo.
Well, it's an ambition that fits nicely with the overall theme of her husband's, and his fellow Republicans', campaign. Kennedy's election, at the time, was marketed as a "New Frontier" where the country was going to discard its old prejudices and work to enfranchise all Americans. The current batch of Republicans, with Newt honking at the front of the mob, pretends we'd all be happier if we could just reverse fifty years of social progress and return to a mythical era when straight white upper-middle-class GOP daddies ruled the globe, and the rest of us knew our place. Let's hope that getting shellacked harder than Callista's hair-helmet will end the widespread public fluffing of that particular ugly little fantasy…