WAUWATOSA, WI (January 21, 2012) – A giant, mutant honey badger disrupted a rally organized to show support for embattled Wisconsin Governor Scott Walker, charging into the small gathering and slightly injuring at least one attendee. The unusually large carnivore, estimated to weigh 15 tons, struck without warning, terrorizing the fives of Wisconsinites who had showed up to counter the Walker recall effort.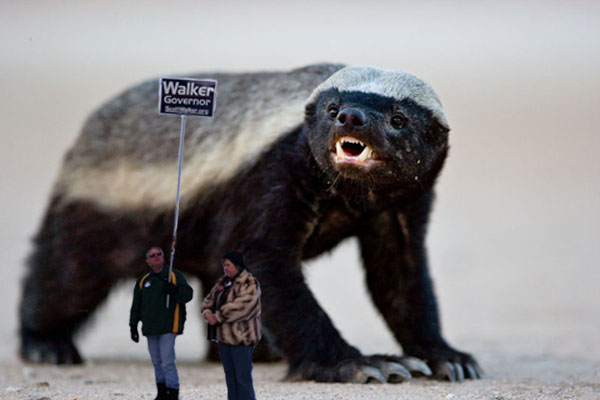 "Christ, it was a big fecker," said one shaken witness, who commented under the condition of anonymity. "And yet it moved so quickly! I'm pretty sure it was sent by ACORN and SEIU thugs."
Rally attendees regrouped in a booth at a nearby Denny's. Many echoed the suspicion that Walker's political opponents were behind the attack.
However, when reached for comment, University of Wisconsin zoology professor Welden Tinkelboom speculated that the badger mistook one rally attendee's faux fur coat for a honey badger pelt and nipped the woman in retaliation for a slain relative.
"Contrary to popular belief, honey badgers DO give a shit," said Tinkelboom.
[Please consider this an open thread.]