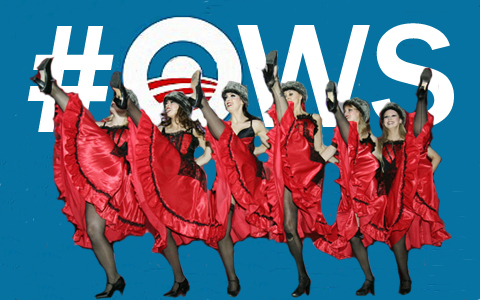 Charles Krauthammer is mad enough to stomp bunnies, a man consumed with the type of bitterness that can only come from being thwarted by putative allies when a cherished goal is in sight. Things were going so well. With an assist from elderly social conservatives in patriot drag,* the GOP had successfully rebranded the economic free fall and debt juggernaut Bush bequeathed to the American people as the consequence of Obama's "reckless spending, new entitlements and oppressive regulation with higher taxes."
The GOP's electoral victories in 2010 put conservative fantasies about tossing old ladies and elderly gents into the maw of the private insurance industry and slashing social programs that serve the poor like Freddy Krueger on a meth binge tantalizingly within reach. And then Gingrich and Perry had to go and fuck everything up.
According to Special K, Gilded Age-levels of wealth inequality have nothing to do with the economic shit-pile, and Wall Street marauding is so irrelevant to the issue that it doesn't even merit a mention. No, these extraneous topics were injected into the debate by the president as a "class-envy gambit" to bolster his political fortunes. And Obama's strategy would have totally bombed due to "suffering in part from its association with an Occupy rabble that had widely worn out its welcome."
But then, "the struggling Democratic class-war narrative is suddenly given life and legitimacy by…Republicans! Newt Gingrich and Rick Perry make the case that private equity as practiced by Romney's Bain Capital is nothing more than vulture capitalism looting companies and sucking them dry while casually destroying the lives of workers." And now "Romney's wealth, practices and taxes take center stage."
How bad is it? This bad:
"Wednesday, the Republican House reconvened to reject Obama's planned $1.2 trillion debt-ceiling increase. (Lacking Senate concurrence, the debt ceiling will be raised nonetheless.) Barely noticed. All eyes are on South Carolina and Romney's taxes."
The opportunity to demagogue once-routine debt ceiling hikes? Gone. A Koch-funded photo op featuring tricorn-hatted Tea Partiers staging a Hoveround siege of the Capitol? To ashes in Krauthammer's mouth it turns. All thanks to those meddling kids on the GOP presidential slate. Damn them. Damn them to hell.
*H/T to fellow Rumproast blogger Hunger Tallest Palin for this dead-on description of the Tea Party.
[X-POSTED at
Rumproast
]