The Romney PACs bought up scads of TV time here in Florida during the playoff games yesterday to let GOP primary voters know what a scuzzbucket Gingrich is. They had an interesting spin: that the president is behind the Gingrich surge and that Newt is pals with Nancy Pelosi, Al Gore and Freddie Mac.
Will it work? I have no idea. A year ago, I would have said Gingrich had a lock on it since it's a closed primary and the state's GOP voters were dumb and crazy enough to nominate and elect obvious crook Rick Scott on a "reform" ticket. But with Scott's approval ratings now in chlamydia territory, maybe they've learned their lesson? Hahahaha, of course not! Anyway, here's an electoral map: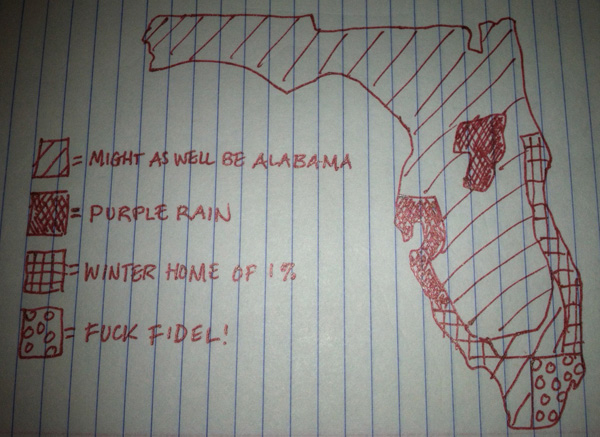 I'm thinking Gingrich will take the "MIGHT AS WELL BE ALABAMA" territory. It looks big, but much of it is sparsely populated. Romney will likely take "WINTER HOME OF THE 1%" territory, because the folks there identify with the paltry $375K speaking fees and believe a 15% tax rate on hardworking investments is just a horrific burden on productive, hardworking Americans, which should be eliminated entirely (along with the death tax).*
The "PURPLE RAIN" territory is up for grabs. It comprises Midwestern and Northeastern retirees (Villages of the Darned) who seem susceptible to Romney's comforting Daddy Warbucks mien, but that is balanced by hardcore Teahadists who might break for Gingrich and working folks who think all the choices suck. I'm giving a slight edge to Romney here.
As for the "FUCK FIDEL" territory, if I were an advisor to Gingrich or Romney, I'd tell them to focus their efforts in Miami Dade, making the rounds of Cuban exile-oriented talk radio shows to blast the frail, retired octogenarian Fidel Castro and suck up to Marco Rubio. My feeling is that's their best bet to move the needle here.
* Fixed per commenter Gene108, who is dead right…
[X-POSTED at
Rumproast
]