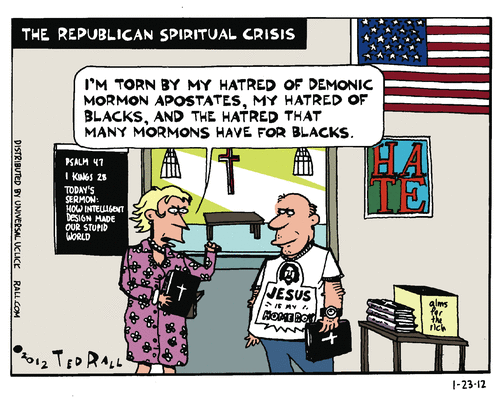 (Ted Rall's website)
__
WaPo reports that "the debate at the University of South Florida in Tampa, will air on NBC at 9 p.m. ET in the place of "Rock Center". Tampa is also the site of the GOP convention in August, which I suspect will be mentioned once or twice. Livestreaming via NBC.com or the Tampa Bay Times.
__
Richard Adams' Guardian liveblog (actually) here.
(NBC feed just crashed my desktop — twice)
**********
Balloon Juice is loading really, really slowly for me. And since Brian Williams, to his credit, is keeping the audience in line & the freak-show factor down, we are able to discern that stripped of easy applause lines for the bigots and xenophobes, the standing Republican candidates are really, really boring.
From the Guardian:
9:33pm: It's on to Newt Gingrich's contract with Freddie Mac. Here's one thing Gingrich wants to get across: he did not do any lobbying for Freddie Mac. But did you peddle influence? asks Williams? "I think it's pretty clear to say I never did any lobbying," says Gingrich.
__
Romney jumps in to ridicule Gingrich's previous nonsense claim to have been hired as an historian. Gingrich is putting on his "judging face".
__
"I offered strategic advice, based on my knowedge of history," he responds . Oh do come on.
__
9.30pm: "I'm proud of the fact that I paid a lot of taxes," says Mitt Romney, and goes on to say he's "paid all the taxes legally required," which is still not a great answer. He still hasn't got on top of this an issue. His well-paid consultants just aren't coming up with the goods.

John Podhoretz @jpodhoretz
So on stage–a one-term governor; a guy who quit the speakership; a guy who lost by 18 points; and a lunatic.

For some reason – a cock-up it seems – Rick Santorum is given free reign to defend Mitt Romney and capitalism.
Yeah, Santorum's running for Willard's VP.
***********
Comment of the night:
MildlyAmusedRainbowPerson – January 23, 2012 | 10:17 pm

You know, take away the enraged racist mob from Newt Gingrich and you end up with a short, fat, ignorant and incredibly boring asshole.