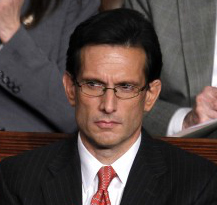 Do you remember when one of the big MSM critiques of Democrats was the lack of optimism they showed, how they were always scolding and negative about our future, and how Americans, who are fundamentally optimistic, couldn't identify with the party and its candidates because of it? I do, but apparently this guy doesn't, because I'll be damned if he cracked more than a reluctant smile last night.
It's not just Cantor and Boehner at the SOTU, it's also Gingrich, Romney, Santorum and Paul in the debates. Those twice-weekly pissing matches are glum, overly serious affairs contrasting the grim meathook future of another four years of Barack Obama with an even darker apocalypse of program cuts and never-ending austerity under the Republicans.
I'm not saying that politicians need to tell us happy lies, but I think it is fair to expect them to have a bit of optimism and some proposals that try to make the lives of Americans better. We haven't seen either from the Party of Reagan for at least a solid decade. Hating the gays,the browns, and the poors, and cutting programs to keep taxes down are all unpleasant work, and it shows.