A bit more self-aggrandizement, for which I apologize, but I thought (hoped) y'all might want to know about the conversation I'm going to have with Alan Lightman this afternoon.
It will be on the occasion of the publication (yesterday!) of Alan's latest book, Mr. g: A Novel About The Creation.  This is my monthly Virtually Speaking Science web/Second-Life cast, and you can listen here.  Here's where to go in Second Life for a "live audience" view.
Alan, as many of you know, is both a theoretical physicist and an essayist and novelist of great accomplishment.  He's best known for his marvelous fiction-of-ideas, Einstein's Dreams, but I'd also point you to his non-fiction, especially his recent, The Discoveries: Great Breakthroughs in 20th Century Science, Including the Original Papers.  That's a work of both great depth and great fun, even if I've argued with Alan about his omission of Wegener's continental drift paper.
But back to the matter at hand:  Mr. g is a novel in the spirit of Einstein's Dreams, deeply engaged in ideas, specifically, (at least as I read it), what is the maximum amount of God you can get in a universe that obeys the physical laws we now recognize.  To tackle this there are familiar figures:  Mr. g himself, and his questioner (the interlocutor from Job, much more than the fallen angel of Paradise Lost).  And there are some not-so usual folks, specifically Mr. g's uncle and aunt.  And then there is, after a bit, space and time, universes and the Universe, and an account of what feels to me to be the tragic nature of any possible conception of a deity.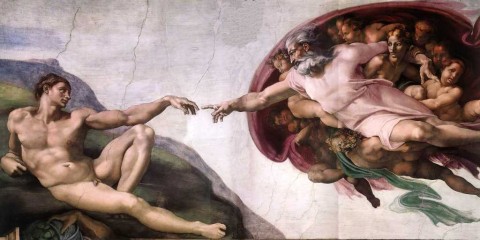 We'll be talking about that, about what makes a work a novel, about the science-religion argument as it plays out in popular culture, and maybe even about what it takes to convey something of scientific lives and thinking to broad audiences, all in more or less an hour.  If you're interested, come on down (or download the podcast once it becomes available–within hours or the day).
Image: Michealangelo, The Creation of Adam from the Sistine Chapel Ceiling, c. 1511.  Inevitable — a cliché, I know.  But what are you going to do?