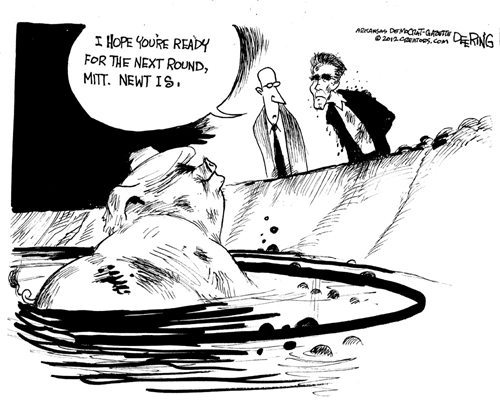 (John Deering via GoComics.com)
__
Not a good likeness of Romney, but Wolf 'Windsac' Blitzer will be moderating, so the Swollen Amphibian should be back on form.
CNN livestream here.
Richard Adams' Guardian liveblog here.
************
"A state that knows ALL ABOUT election cliffhangers" — really, Wolf? I don't know that the sane people in Florida want to be reminded about hanging chads and butterfly ballots. Oh, wait — these are Republicans. As you were.
************
From the Guardian:
7.57pm: In an effort to win support from the Latino community, Newt Gingrich will tonight give half of his replies in Latin.
__
And in a bid to win support for his plan to build a huge moon colony, Newt Gingrich will give the other half of his replies in Klingon.
************
At Wolf's frantic urging, Newt calls Willard "The most anti-immigrant person on this stage." Willard retreats behind Marco Rubio — that's RUBIO, folks, credit-to-his-race Marco! — who just went to the top of the 'who will be Romney's VP pick" sweeps.
**********
Santorum wants to drone-bomb Cuba like it was Libya, and then go back to the great American tradition of invading Latin American and Southern American to "help" them understand "the god-given joys of democracy." Not going over as well with the audience in the hall as he'd hoped, but I'm sure it will play well with Talibangelicals tomorrow.
**********
Wolf: "Next up — the debate questions go to SPACE! — the FINAL FRONTIER!" Oh, I think the candidates have been orbiting Uranus for at least the past 20 minutes, Blitzer.
***********
Feels to me like Blitzer's been in the tank for Willard all evening (probably under orders from his paymasters). He just went for "Dr. Paul, you would be the oldest president — will you release your medical records?" Yeaaah, Wolf's got an agenda.
**********
Willard says a Moon colony would be too expensive. Santorum and Paul both say, as far as I can tell, that they'd rather spend that money on a space-based military, because otherwise the Chinese will bomb us from space. Newt assures Wolf, and us, that if we would only Get Out of the Way of Private Enterprise, Charles Lindbergh would already have flown from Paris to the Moon. And also, we wouldn't need to give NASA any extra money, we could just "take away the waste" from "the NASA office in Washington". In other words, we've moved away from science fiction and into olde-tyme fantasy.
***********
Willard: "Romney-Obama-care is approved of by Massachusans, by about three to one [more like four or five to one, IIRC], and therefore, on the day I'm inaugurated I will kill Obama-care for the rest of you suckers." Well, he wasn't getting many votes from his Commonwealth ex-neighbors, anyway…
**********
Not sure I can stand another 40 minutes of this. "Next up — explain why your wive would be the best First Lady". Newt no doubt will assure us, The American People, that if Callista flags under the strain he'll gladly bring in a mid-term replacement.
***********
Ron Paul: My wife has put up with me for 55 years. Mitt: My wife has contended with MS, breast cancer, and many years of instructing young sluts to marry their baby-daddies or else give up their whelps to more fortunate couples, while the little squirmers are still newborn & most desirable. Newt: Heh, heh, I'd "co-president" with any of those other three women, ifyouknowwhatImeanandIthinkyoudo. Oh, and Callista has a great embouchure. Santorum: Did you know we have a special-needs kid, and a dead kid as well? This proves my wife is a More God-Blessed Woman than anyone. (Also, we beat raised our kids right, which is me signalling at my fellow Talibangelicals.) Santorum has given up on the Oval Office, but he's open to the second spot on anybody's ticket, and if all else fails, it's back on the God Grifter circuit!
************
Whooo, boy, CNN found a self-proclaimed Palestinian-American to ask Newt about his "invented people" crack. Willard just spent five minutes frantically insisting that Isreal is the fifty-first state, and anyone who doesn't think so is un-American. Newt just re-iterates that "historically" Palestinians don't exist, so who cares about hurting their invented feelings? Ugh.
***********
Newt just claimed that 'a large part of the reason I'm running" is that 'there's a war, by the elites, on Christianity.' Well, we know the Jacksonville hall is thunderbolt-proof, at least. And Newt still couldn't out-Gawwwd-bother Santimonious, I mean Sanctorum — what a whiny little turd that man is, and I say that as a person of faith: Ricky apparently thinks of his God as an omnipowerful Big Brother who's gonna lay the hurt on anybody who crosses Little Ricky.
***********
Why should YOU be the next president? RonPaul: Freedom, and money. Willard: Private enterprise is supreme, and none of these other mooks have ever been a CEO. Newt: Fundamentally, historically, all authorities agree that St. Reagan wants me in the Oval Office. Ricky: I'm God-chosen, and those others are no better than atheists.