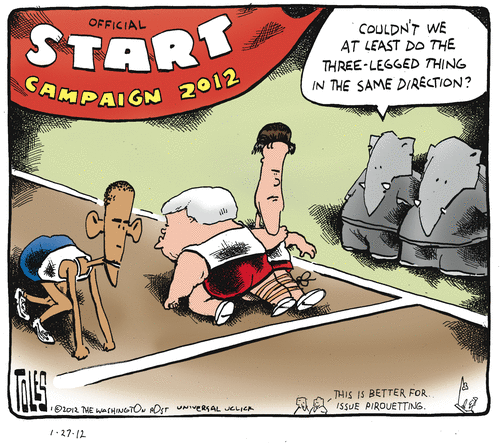 (Tom Toles via GoComics.com)
__
Jonathan Chait, formerly of TNR, now at NYMag's Daily Intel, says that he's "always had a soft spot for Mitt Romney, who strikes me, in a way I can't completely define, as a good guy." Which explains the general election demographic to whom Romney hopes his non-stop pandering will appeal: Totebaggers. And yet, even Chait admits that "Romney does lie a great deal":
… Even by the standards of politicians, Romney seems unusually prone to dishonesty. Again, you can ascribe this to circumstance rather than character. I see him as a patrician pol, like George H.W. Bush, who believes deeply in public service but regards elections as a cynical process of pandering to rubes. I think you can plausibly make other interpretations, and you can separate Romney the man or even Romney the president from Romney the candidate. But I don't see how you can paint Romney the candidate as in any way scrupulous about the truth in any form.
My own 'plausible interpretation' is that George H.W. Bush was a giant tool, born to a family of well-connected thugs, who had a political career as a way for his family and their cronies to loot the Treasury and our joint national inheritance. And that Willard 'Mitt' Romney is also a giant tool, and a sociopath, who's having a harder time ascending to his fReightful throne in the Oval Office because (a) we're all more sophisticated about Diebolding elections now; and (b) thirty-plus years of looting by two generations of Bushes and Bush-handlers have left so little for the rest of us that even the low-information voters have started to catch on. But, hey, I'm sure Willard — or, more likely, his paid surrogate — would be a perfectly lovely partner at the NPR phonebanks during pledge month!
So… apart from my personal biases, what's on the agenda for the weekend?