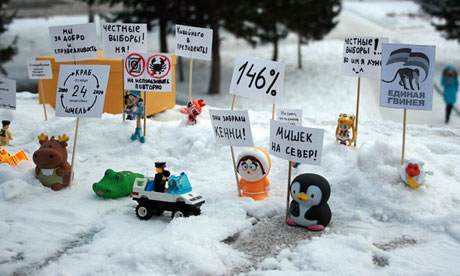 Lego figurines, Kinder surprises and other toys played the role of 'demonstrators'.
Photograph: Sergey Teplyakov/vkontakte
__
I would love this even I didn't have a half-dozen tchotchkes on my desk right now. From the Guardian:
Police in the Siberian city of Barnaul have asked prosecutors to investigate the legality of a recent protest that saw dozens of small dolls – teddy bears, Lego men, South Park figurines – arranged to mimic a protest, complete with signs reading: "I'm for clean elections" and "A thief should sit in jail, not in the Kremlin".
__
"Political opposition forces are using new technologies to carry out public events – using toys with placards at mini-protests," Andrei Mulintsev, the city's deputy police chief, said at a press conference this week, according to local media. "In our opinion, this is still an unsanctioned public event."
__
Activists set up the display after authorities repeatedly rejected their request to hold a sanctioned demonstration of the kind held in Moscow to protest disputed parliamentary elections results and Vladimir Putin's expected return to the presidency in a March vote.
__
Passersby admired the display with giggles, but police took it more seriously, examining its details and writing down each placard…
Worth clicking the link just to read the comments. I'm looking forward to seeing what American protestors can achieve with their homespun Makerbots and the fast-advancing field of 3D printers.
And then, * sigh *, there is the state-sanctioned "creative play" of this guy, complete with gender-biased color insult: