Komen for the Cure is abandoning women in need.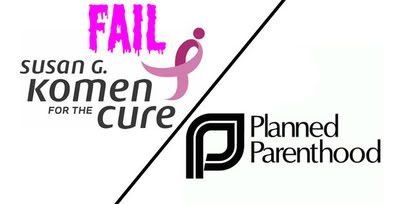 There's a new and ugly development in the GOP's War on Women.  The Forced Birthers have enlisted an organization — Komen for the Cure, which scores of women have relied upon both to prevent breast cancer, and as a support network when fighting breast cancer — to help undermine the rights of women to make decisions about their bodies for themselves.
In a press release today, Planned Parenthood announced that The Susan G. Komen for the Cure Foundation will no longer provide Planned Parenthood the more than half million dollars in grant funds which Planned Parenthood uses to provide breast health education, screenings, and referrals for mammograms.
Turns out that Komen's new Vice-President of Public Policy, Karen Handel, is a Forced Birther, and even ran for governor of Georgia on a platform of defunding Planned Parenthood.  Thus, it seems that Komen for the Cure, the purpose of which is to help women, has been taken hostage by Karen Handel and her right-wing Forced Birth views which undermine women and women's reproductive choices.  In her own words, "Since I am pro-life [anti-choice] I do not support the mission of Planned Parenthood."
The mission of Planned Parenthood? Lady, what are you talking about? The mission of Planned Parenthood is to provide health services, including breast cancer screening and education to primarily poor women who otherwise cannot not afford such services.  That is 90% of what Planned Parenthood does. The "mission" of Planned Parenthood aligns with the "mission" of Komen for the Cure — or, at least, it did.  Abortion comprises approximately 3% of the services Planned Parenthood provides.
Furthermore, just as the Hyde Amendment prohibits federal funds from being used for abortion services, I presume that the Komen grant money previously provided to Planned Parenthood is used specifically for breast-health, and not for abortions.
Komen claims that it is refusing to fund Planned Parenthood because of the charity's "newly adopted criteria barring grants to organizations that are under investigation by local, state or federal authorities."  Planned Parenthood is the subject of an investigation led by Florida Republican Rep. Cliff Stearns (R-Asshole) to "make sure" that no federal funds are being used for abortion services (even though the Hyde Amendment already prohibits it.)
As I wrote in September, it's a bullshit investigation designed to undermine Planned Parenthood and subvert its purpose out of fealty to the religious right.  And, it seems clear to me that Komen for the Cure adopted its "new criteria" specifically so it could hang its hat on Stearns' bullshit investigation and then throw up its hands: "Whelp! What're ya gonna do?"
Horse shit.  It's a cowardly move calculated to stave off any backlash for its decision by avoiding any discussion of the true reasons behind its sudden about-face when it comes to funding Planned Parenthood.
Ultimately, this is nothing less than an outright betrayal of women.
From the Washington Post:
The nation's leading breast-cancer charity, Susan G. Komen for the Cure, is halting its partnerships with Planned Parenthood affiliates — creating a bitter rift, linked to the abortion debate, between two iconic organizations that have assisted millions of women.

The change will mean a cutoff of hundreds of thousands of dollars in grants, mainly for breast exams.

Planned Parenthood says the move results from Komen bowing to pressure from anti-abortion activists. Komen says the key reason is that Planned Parenthood is under investigation in Congress — a probe launched by a conservative Republican who was urged to act by anti-abortion groups.

The rupture, which has not been publicly announced as it unfolded, is wrenching for some of those who've learned about it and admire both organizations.

"We're kind of reeling," said Patrick Hurd, who is CEO of Planned Parenthood of Southeastern Virginia — recipient of a 2010 grant from Komen — and whose wife, Betsi, is a veteran of several Komen fundraising races and is currently battling breast cancer.

"It sounds almost trite, going through this with Betsi, but cancer doesn't care if you're pro-choice, anti-choice, progressive, conservative," Hurd said. "Victims of cancer could care less about people's politics."

Planned Parenthood said the Komen grants totaled roughly $680,000 last year and $580,000 the year before, going to at least 19 of its affiliates for breast-cancer screening and other breast-health services.
What a cruel irony this decision represents: The most renowned breast cancer awareness foundation is abandoning women (and some men, too) in need of breast-health services (primarily poor women and women in rural areas), and potentially leaving them to die, all in the name "life."  It's sick.
It's time to send Komen for the Cure a message that it should reconsider its decision to participate in the partisan politics that are playing out on the backs, breasts, and in the uteri of women in this country.  I hope you will join me in no longer donating money to Komen for the Cure and will instead direct your donations directly to the Breast Health Emergency Fund which Planned Parenthood established to fill the funding void and to continue providing the breast cancer screenings and care previously supported by the Komen Foundation.
Contact Komen for the Cure here: 1-877 GO KOMEN(1-877-465-6636) and sign this petition.
[
This article by Alicia Staley
is an interesting and somewhat appalling read.  Seems to me spending 17% of a 331M budget on research "for the cure" is pitiful.  Then again, I don't have any experience with well-funded charities.  The budget for my literacy gig is, like, four dollars.]
***It's worth pointing out yet again that President Obama outright refused any cuts to Planned Parenthood during last spring's budget crisis.  Boehner asked for cuts and President Obama refused:"Nope. Zero." (I wrote about it here.)  
[via WaPo; via Planned Parenthood]
[cross-posted at
Angry Black Lady Chronicles
]
Hello! It's me again. I'm back, for better or for worse.  In sickness and in health.  Til scotch do us part.  I'll likely GBCW at least three more times before November.  You've been warned.  -ABLxx