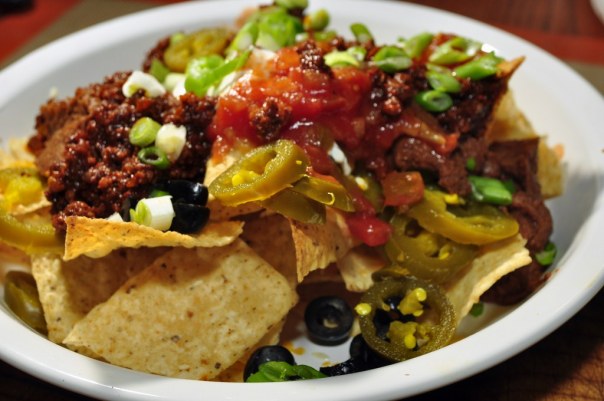 __
From our Food Goddess, TaMara:
It's that time again. Super Bowl Sunday, when you sit down to stuff your face with favorite snack foods, drink beer and watch the Super Bowl Commercials. I think there is some football in there somewhere. What's on your Super Bowl party menu? Do you make your own snacks or go for the quick and reliable chips and dips? Need some ideas for quick and easy snacks?
__
You can't go wrong with nachos – easy and easy to pile high with your favorites ingredients. Here's rather healthy (?) version: Black Bean and Corn Nachos, JeffreyW gets a little more creative with his pizzas, here, here and here (the man does love a good pizza).
__
I'll never turn down nachos, or pizza for that matter, but when I was thinking about favorite party foods, tortilla pinwheels came up pretty quickly. So many things you can do with them. Four variations follow.
__
Now it's your turn, what are you planning on making this Sunday and more importantly what beer are you serving? Who has the best recipe for hot wings, a football must have food? (Up next week: Slow Cooker/Crock-Pot ideas)
__
Basic Tortilla Pinwheels
* 1 (8 ounce) package whipped cream cheese
* 10 (10 inch) flour tortillas
* 1/2 cup green onions, chopped
* 1/4 cup black olives, chopped (optional)
* 3/4 cup chopped ham slices
__
You spread the ingredients on the tortillas, roll them up and slice them into 1 inch pinwheels. Couldn't get much easier.
__
So how do we add some dazzle? Flavored tortillas and a variety of fillings.
__
Here are some ideas I had:
__
Jalapeño & Cilantro Tortillas and Black Bean Tortillas
* Cream Cheese
* Pickled jalapenos
* Sliced green chilies
* Turkey
* Salsa
* Black olives
* Shredded cheddar cheese
__
Roasted Red Pepper Tortillas and Sun-dried Tomato & Basil Tortillas
* Cream cheese mixed with crushed roasted garlic
* Spinach
* Pepperoni
* Grated parmesan
__
Plain Tortillas and Whole Wheat Tortillas
* Cream cheese
* All-fruit style strawberry preserves
* Crushed red pepper flakes
__
The list is endless, limited only by your creativity.