The last time I discussed religious extremists attempting to impose their will on America, my parents spent the next few days debating (in front of me) whether I was a heretic, a heathen, or just an asshole. I'll try to be a little bit more delicate this time. Here's a picture for you: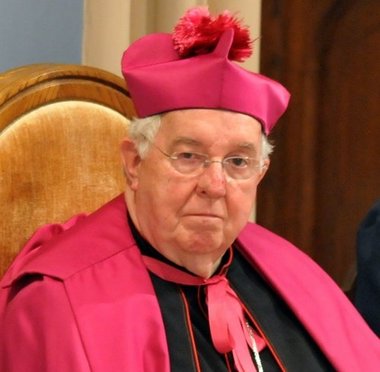 That geriatric pictured above thinks he knows what is best for you ladies and your lady parts:
Springfield's Roman Catholic Bishop Timothy A. McDonnell has joined religious leaders everywhere in a fierce reaction to the national healthcare law's mandate to include free contraceptives and other birth control.

McDonnell will release a letter at local Catholic Masses on Sunday denouncing the mandate as an attack on religious liberties of all faiths.

"The federal government, which claims to be 'of, by, and for the people,' has just dealt a heavy blow to almost a quarter of those people – the Catholic population – and to the millions more who are served by the Catholic faithful," the letter reads, in part.

***

"Catholic Bishops in principle are, of course, not opposed to health care in this country … but the government is really crashing though our constitutional protections. Our expectation is that if someone works for us they shouldn't violate any key moral principals we hold dear," and the church certainly shouldn't have to pay for it," said diocesan spokesman Mark Dupont.
First off, they aren't being forced to do anything- they could stop taking public money and do whatever they want. Second, if these octogenarian bullshit peddlers spent 1/100th the energy they spend focusing on rubbers and the pill instead worrying about their organization's global conspiracy of child rape and their gay-bashing, I'd actually maybe give a shit about their consciences and moral principles. But they don't, so screw 'em.
I guess delicate just isn't in my nature.