Which is another way of saying that I neither should nor have anything more to say about Komenfreude, except…
McMegan, as is her wont, has hit bottom and continued to dig — with a second post complaining that all the pro-choice meanies missed her point that funding health care services means that one is funding abortions (yup — neither logic nor the concept of designated donations seem to be in McArdle's wheelhouse).  She goes on to educate her readers about the strange fact that overhead pays for actual expenses — which, astonishingly, many of us actually know.  She makes no effort to address the claims of those who argue that the Komen Foundation's overhead is incommensurate with its actual services.  That would have required actual effort (and a calculator!).
She here ignores what more seasoned or cynical reporters would take to the bank:  more people make a living off the disease than die of it.
McArdle's claim rests on the fact that overhead at Komen runs about 10% of its annual expenses of roughly 400,000,000, with fundraising adding another roughly 10% — which in fact doesn't sound too bad.  But even a cursory look at the most easily accessed numbers suggests that a more curious writer would have had some questions about Komen's books.
For example:  according to the foundation's 2010 annual report, money spent on adminstrative overhead exceeded that for treatment.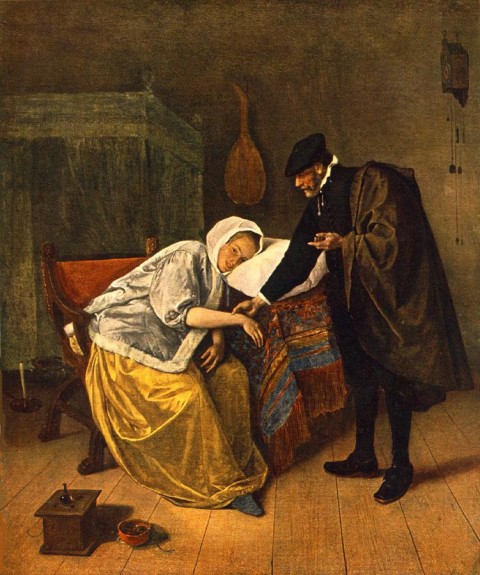 It almost matched what was spent for screening, and even (now politicized) research expenditures accounted for less than 20% of whole pie.
By far the largest line item service paid for by Komen is that for education, which accounts for about $140 million, or 35% of the operation's budget.  Now donors might want to know that cash offered up "for the cure" was by and large being spent on efforts that have nothing to do with either individual patient care or the science of breast cancer, but "education," taken all in all is certainly an important element in an approach to any progressive disease — and  the difference in outcomes for breast cancers discovered when they are local compared to later stages is formidable.
But even these numbers are a little squirrely.  This post details a breakdown in which 37% of that budget goes for the actual delivery of "education." 63% goes for everything else, from developing materials to postage — and professional fees and occupancy and so on.  That is – there is a fair amount of overhead hidden within this education line item, and obscured from the top line budget.  Again, a cynical or, perhaps better, a competent reporter would ponder the outsize proportion of money Komen chooses to spend on education, as opposed to activities that more directly connect to patient outcomes and the future of cancer medicine.  Given how easy it is to slosh cash around consultant fees and production contracts, if I were looking for ways a charity might turn itself into a piggy bank, this is the kind of thing I'd be looking for.*
McArdle didn't, which is of course, no surprise to anyone here.  The only good news is that her trademark "I'm agin' whatever the reality based community is for" act really does seem to be wearing thin; perhaps it's just inattention on my part, but she seems to be having much more difficulty breaking out of the echo chamber she's created over there than in the past.  Once a Villager, always one, I guess — but there are high tables and low, and I'm thinking that McArdle looks more and more like she will remain well downhill of the (pink Himalayan salt) as her combination of sloth and mean-girl reflex continues to lose its lustre.
But all that is preamble to the real point of this post, which is that all of the Komen reporting, and especially the discussion of Nancy Brinkley's truly impressive annual salary, reminded me of the late great documentary Marjoe, and especially this clip.  (The action really gets on target at about 2:52.)
<div align="center"><iframe width="420″ height="315″ src="http://www.youtube.com/embed/1-C3trU9ljw" frameborder="0″ allowfullscreen></iframe></div>
There is nothing new under the sun.
*The usual disclaimer:  I haven't done what I'm suggesting McArdle should have.  I'm not a forensic accountant, and I didn't write a story in which I try to argue that Komen's overhead numbers are kosher.   Nor am I claming here that they are not, just that if I were an editor  I'd have a lot of questions to ask any reporter that came to me with the kind of unsourced and unsupported tripe we confront here.
Image:  Jan Steen, The Doctor and his Patient,  before 1679.