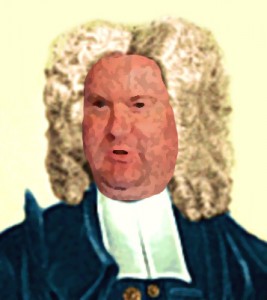 The occupant of today's ducking stool is a post by Erick Erickson that is entitled — I shit you not — "The Perversion of the Words of Our Lord Jesus Christ by the Sinner Barack H. Obama." CottonMather CottonMatherson waxes theological for 1,500 words or so, returning to variations on the word "pervert" with such alarming frequency as to inspire concern for Georgia's dairy goat population.
The post is such a textbook demonstration of moral obtuseness, ignorance and conceit that to put it through the Ensnarkerator seems superfluous. Instead, I'll turn the analysis of Preacher SonOfAPreacherman over to Emily J. Brontë, who described a similar (but harder-working) character thusly:
He was, and is yet most likely, the wearisomest self-righteous Pharisee that ever ransacked a Bible to rake the promises to himself and fling the curses to his neighbours.
Speaking of assholes, we've got our own low-rent version of Sarah Palin in the Florida legislature: State Senator Ronda Storms. She just introduced a bill to ban welfare recipients from using food stamps to purchase cakes, cookies, Jello and potato chips. Is it because she's concerned about good nutrition? Hell no. Storms wants to make sure a struggling single mom can't buy her child an Oreo because Storms is a self-righteous, sanctimonious jackass.
And naturally, Storms is another tiresome god-botherer who would make Jesus, if he existed, puke his holy guts out. Her continued existence, unsmited, is all the evidence I need that Bill Maher has it right in the clip down yonder.
[X-POSTED at
Rumproast
]