IN the most recent Gallup poll on abortion, as many Americans described themselves as pro-life as called themselves pro-choice. A combined 58 percent of Americans stated that abortion should either be "illegal in all circumstances" or "legal in only a few circumstances." These results do not vary appreciably by gender: in the first Gallup poll to show a slight pro-life majority, conducted in May 2009, half of American women described themselves as pro-life.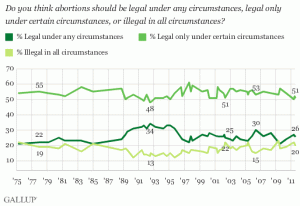 I see that 20% say abortion should always be illegal. I see that 26% say it should always be legal. And I see that 51% say that is should be legal only under certain cirumstances.
What I don't see is any possible way to find a combination of those three numbers and come up with 58%. Nor do I understand why you would combine those who think it should be illegal all the time with those who think it should only be legal some of the time. If you think it should be legal some of the time, you're pro-choice. But that's another point.
Am I just missing something? How does he get to 58%?
*** Update ***
Found it- the graph combined Legal under most circumstances (38%) and Legal in only a few circumstances (13%) to get the legal under certain circumstances (51%). Later on it breaks the responses down, and that is how he got the magic 58%. I just didn't scroll down the poll far enough.
Regardless, I look at that polling data and don't come up with what Ross sees, which is that 58% of people are pro-life. What I see is that 77% of the people think it should be legal. Here's a good piece:
"But Brian," you say, "all this shows is that the country is pretty equally divided on abortion." It doesn't, actually. Even though people identify fairly equally as pro-life (how I hate that construction) and pro-choice, the numbers strongly favor choice. See, there's really only one group up there who wants abortion to be illegal all the time, and they make up about 20% of the population. Those are hard numbers, too—look at the poll and scroll down. Gallup provides numbers going back to 1975 on this question, and there's not a lot of variation. Low is 12% and high is 23%.

Everyone else, even if they don't want to admit it, is pro-choice. Some are more pro-choice than others, but unless you want abortion completely outlawed, you're pro-choice, at least a little, because you're admitting that you can imagine a situation where a woman would feel she needs to have an abortion.

The real difference between the group in the middle and the group who supports "legal under any circumstances" is that the latter group isn't trying to impose its morality on the public at large. The mushy middle wants to be able to pass judgment on the straw women they see as slutty while making exceptions for the people they approve of, but in the end, they still support choice. People like Ross Douthat can't stand to think of this as a country which largely accepts abortion as a necessary part of the health care system, but it is.
Right.