Mom and dad went to Pittsburgh tonight to hang out with my sister Devon, and they all went out to eat, and dad apparently had a veggie burger wrapped in lettuce and has taken the heart attack as a serious warning. I know this is hard to believe, but both he and I are very healthy eaters- not in the "Wow, you cleaned your plate, what a healthy eater," but as in, neither one of us eats crap. I've even had my personal physician remark that I have remarkably low blood pressure, triglycerides, cholesterol, and all the other bad shit, despite being a fat bastard. The thing is, I don't eat junk food, I don't eat potato chips or garbage like that, nor does he. I eat a ton of vegetables and lots of lean meats and reward myself with red meat every now and then. My problem has always been portion control (not to mention the calories from wine and scotch). I just eat too fucking much.
At any rate, was talking to dad tonight about what we would eat tomorrow, because every successful diet (not that you can really call them a success when I am where I am- in reality, they failed pretty bad) was based around planning ahead. So I called him, laid out my plan for tomorrow, and he told me "I think this might be easier for me than you, because I've kind of lost my appetite." Now, my dad is a gourmet cook. He's always been, hands down, the best cook I know. When I go to good restaurants, I don't order things he has made, because I know they will not be as good. So I asked- "Why don't you have your appetite back?"
And it wasn't anything physical, as he told me that "When you are lying on a bed with a catheter going through your body, and the doctor says 'this guy might need major surgery' and then says 'wow, I got the wire through, you are a lucky man,' you just kind of lose your appetite." Dad said that in a timid and wistful kind of voice, and it just was weird.
Dad was and is the strongest person I've ever known. He could do anything. He knew how to cook anything, build anything, make anything, fix anything, and he was always standing up to people doing the wrong thing. I remember him moving refrigerators by himself when I was a kid. Even when I was a bastard as a teenager (and believe you me, I was- the stories I could tell. Hell, the stories our neighbors could tell) I was in awe of him. He was mayor of our town for 20+ years, and he was always the one to tell his co-workers at the university that something was wrong, and always the first one to stand up for co-workers when they were slighted. He was the first one to make sure that people who had no money in town were given food, he was the one who made sure all the decorations were done for the church for Christmas and Easter, and at 6'3″, he was always an imposing man. Every single one of my friends who ever met him, male and female, were afraid of him.
But the past few days, he's been a bit subdued. It was weird for me listening to the strongest, most decent man I have ever known sound scared when I talked to him while he was in the hospital. It was weird saying "I love you" the other night as he was lying on a gurney, as we are a good German family and we don't do that public display bullshit. We all understand it. There is no reason to say it. We all know it and understand it. And it was weird thinking about a world without mom and dad.
I guess maybe it is because I don't have kids, and don't have the rebirth aspect of the spectrum- all I have is the image of me in the mirror, older, greyer, softer, and most definitely wider, and my parents, a little older and a little slower and a littler crankier (but still as stubborn and argumentative)- there are no toddlers or kids playing soccer. So I guess maybe I just have the aging wing of the lifespan spectrum, but it just all seems so weird. None of this was ever in my thoughts a decade ago.
But it sure is now. Time for some Lily therapy with a Rosie finish. And I warned you this would be rambling.
BTW- Here is your reward for making it to the bottom of this post: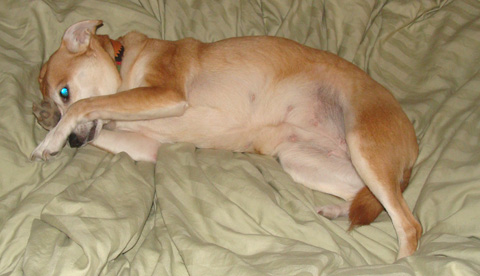 I just LURV that dog. Even as the arthritis sets in to my right shoulder, and I'm pretty much in pain all day every day, I look at that face and think "I'd rather have her than the whole damned arm." And I love Rosie and Tunch, too, but there is just something about Lily. She is the one.