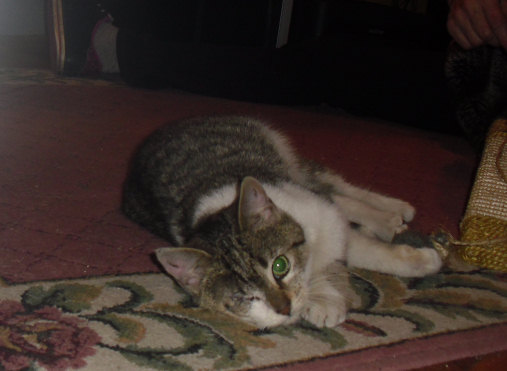 From commentor Johannes:
My wife, who occasionally comments as "La Caterina" helps operate a largish feral cat colony here in Brooklyn. One of her colleagues has found a 3 1/2 month old cat that she calls Sanders. She writes the he was found with one eye very badly damaged by a trauma, that he is very playful, although a little shy, and needs love and a warm home. During his eye surgery, he was neutered, got his shots, rabies shot included, was dewormed, and de-flead. He is, she writes, ready to go!
__
I know that placing cats is a struggle (that's why I have friction 7 of them!) but here's a little life that could be saved. Any leads gratefully acknowledged.
If you don't want your contact information in the comments here, send me an email at [email protected] (or click on my name near the top of the right-hand column) and I will pass it along.