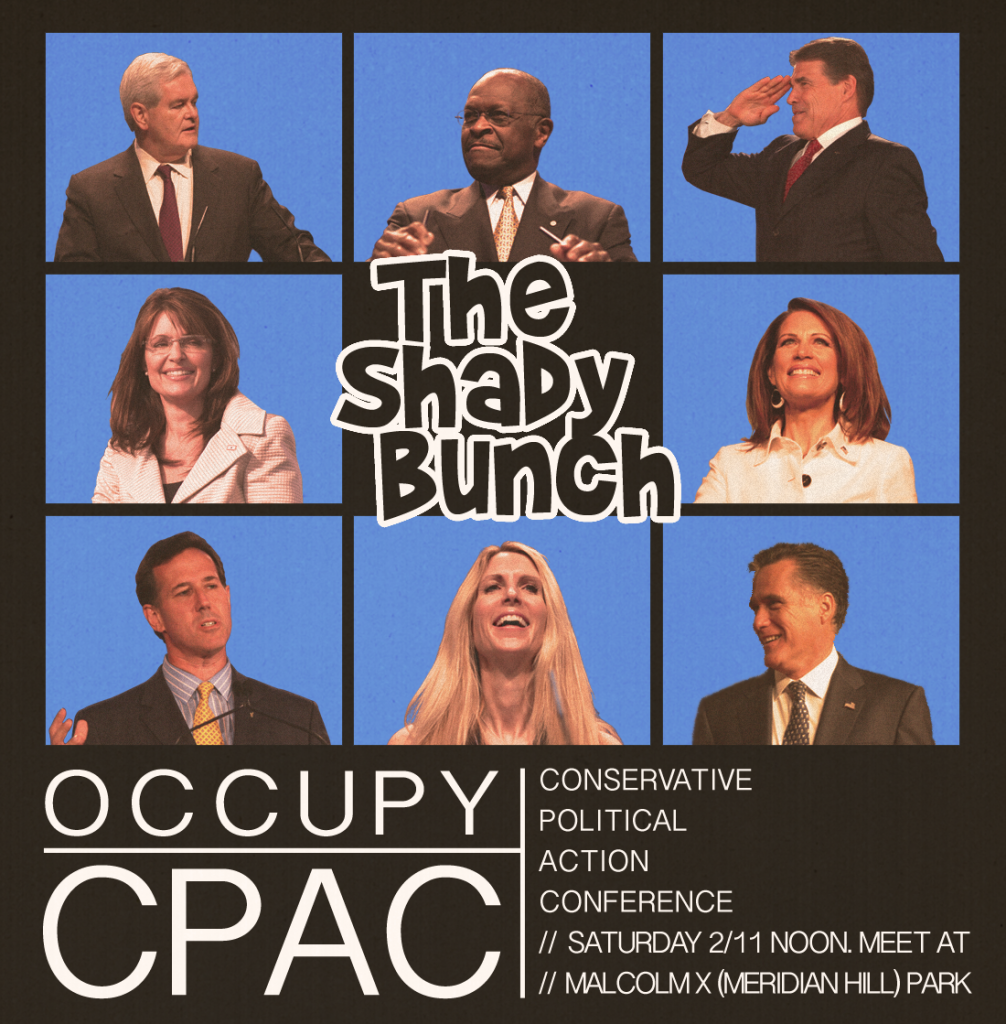 __
Our Mission: Occupy CPAC. Create as much non-violent resistance as possible, and make this a conference the attendees will never forget.
__
We will be joining in solidarity with the AFL-CIO, SEIU, National Nurses United, Metro Labor Council, OurDC, and more to make our voices heard in our increasingly top-down, money-corrupted democracy. We will have actions on Friday at noon and 5pm (for Scott Walker's speech at the Reagan Banquet), and on Saturday we will meet at Malcolm X Park at 16th and Euclid at noon to march to the Marriott…
The stalwarts at Redstate [warning: obvious link] don't seem too jazzed up about this yet. But Dave Weigel, who on Tuesday couldn't see how the Occupiers would bypass the Marriott Waldman's security, dutifuly reports that the ever-vigilant 101st Chairborne has seized the opportunity to go to Defcon Eleventy-One:
… What's the worry? It's not just Occupy CPAC, which I mentioned yesterday. It's the specific action plan that Heritage Foundation blogger Lachlan Markay warned of yesterday.

The protesters suggested pulling fire alarms in the hotel where the conference will take place, screaming "fire" during conference activities, "glitter-bombing" participants, cutting electrical power, and barricading entrances to the hotel, according to the source, who requested anonymity. "Speakers will be physically assaulted, not just verbally confronted," the source told Scribe in an email. Two Occupiers, who the source also identified as members of the New Black Panther Party, "said they would be disappointed if they didn't get arrested and planned to 'make it count.'"

It took a few hours to start hearing this from worried conservatives. This is a new CPAC phenomenon: Fear of violent disruption.
And where the Heritage Foundation leads, K-Lo's House of Crazy must follow. Charles P. Pierce at Esquire (who reads these idiots so you don't have to) comments:
Jonah Goldberg, self-admitted sorry-ass chickenhawk and maker of extremely ignorant wagers on other people's lives, is worried about a gang war in D.C. this weekend… Jonah's worried that folks are going to throw down some serious shit:
__
There are a lot of guys at CPAC who daydream about the Occupy types picking a fight with them.
__
There are also "a lot of guys at CPAC" who dream of a three-way in a hot tub with Laura Ingraham and Victoria Jackson. Dare to dream, boys. My advice to the Occupy folks? Take the weekend off. Regroup. Leave these people to hide under their overpriced hotel beds, waiting for black men in berets to steal the country… and all the hot women.
It's possible that a half-dozen Rand Paul disciples ginned up on cash-bar well drinks and mutual testostereinforcement might roam the late-night corridors looking for a solitary undersized preferrably female or elderly Occupy protester to curb-stomp, but I doubt the Marriott security forces will leave them much to work with beyond their WoW posturing. And let's face it, there isn't enough glitter this side of Frank Baum's Emerald City to 'brighten up' Ann Coulter, much less Rick Santorum.