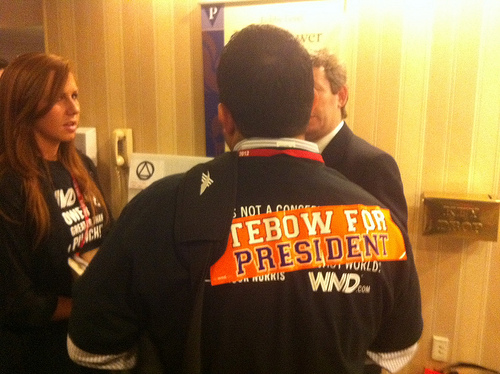 Dave Weigel, at Slate, explains:
The humor comes out of the fact that the sticker's on a WorldNetDaily jersey. WorldNetDaily: The world's #1 source for survival seed schemes and for rumors about Barack Obama's birthplace.
__
Tim Tebow was born to missionaries in the Phillippines.
The Washington Post, in its capacity as the company paper for the company town whose sole industry is politics, strives for a jolly tone:
Just 15 months after a huge election victory, members of a fractured conservative movement gathered on Thursday to agree on one thing: If they don't get their act together soon, the country will really be in trouble…
__
CPAC — a rollicking combination of trade show, political rally, and support group for College Republicans — opened with the usual happy tossing of red meat. One congressman used his time to decry mandates for low-flow toilets: "We are a nation of double-flushers!"
__
But even in the convention's early hours, there were signs of the tension that threatens to pull apart the movement. And each of the four Republican presidential campaigns is trying to grab the biggest piece…
Erick "Voice of the Gated-Community GOP" Erickson [warning: Redstate link] is not feeling the familiar excitement:
… This is the seventh CPAC I have been to. The crowd is the least excited I have seen. On the first day, before the candidates have had a chance to bus in their supporters to stack the deck and straw poll, this is the least excited I've seen them. The crowd's heart is with Santorum. But in their mind they do not think he can win.
__
Today [Friday], Mitt Romney must convince the crowd he is one of them or at least won't betray them. Rick Santorum must convince them he can beat Barack Obama. Newt Gingrich must convince them he is still viable…
Of course, those Occupy DC pranksters have yet to make their presence felt, apart from troubling Jonah Goldberg's sweaty dreams. Given Thursday's warm-ups and also-rans agenda, Weigel mostly stuck to annotating Craigslist, after-hours room parties, white nationalist speakers, and related far-right fringe fantasy tropes.
Charlie Pierce at Esquire, while not above mocking video-poker proponents and possibly the single dumbest current member of Congress, also has more substantive posts on squirmy loathsomes like the anti-American-unionists:
There was also a panel this morning about how successful the efforts have been across the country to roll back collective bargaining…. Both Gerard Malanga from the Manhattan Institute and Kevin Mooney from the Pelican Institute for Public Policy went on at length about how the movement to roll back union rights was less about the economy than about demolishing organized labor as a political force. They cited a number of polls in which union members were dissatisfied with what their unions were doing for them. They mentioned, at length, how far behind the now truncated benefit packages of public sector workers the benefits offered to private sector union workers are. (This, of course, has a lot to do with the rolling back of unions that started under Saint Reagan in 1979, and because a lot of private-sector pension funds have been looted by succeeding generations of Wall Street sharpies, all of which got blamed at the ground level on the unions who were under assault.) To sow division between private-sector and public-sector unions is a nifty way to demolish the political effectiveness of both of them…
… and a certain self-admitted criminal from the Iran-contra mob, still shilling treason for a dishonest dollar:
I'd forgotten what an unctuous twerp Oliver North really is. Over the years since he dove through a loophole by selling out Ronald Reagan at his trial — which prompted Nancy Reagan to call him a liar — North has made a living fleecing the gullible and producing war porn for Fox News. And then he came to CPAC to honor a veteran who undoubtedly is a better person than North ever has been, if only because the veteran in question never has arranged to sell missiles to a terrorist state in order to finance our own terrorists in Central America. Guy's got to have standards, after all…
If you've only got time (or appetite) for a single piece, at least read Pierce's "Tenther Heaven, on the Big Screen", for an introduction to Citizen United's latest crime against our common heritage.