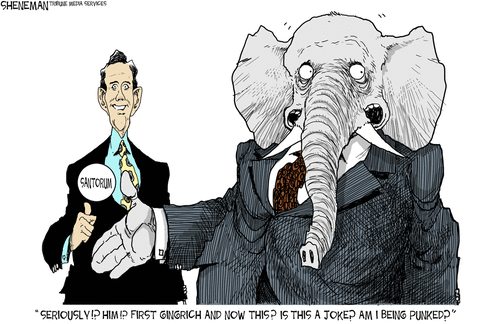 (Drew Sheneman via GoComics.com)
__
Dave Weigel at Slate reports on this year's very serious most important CPAC straw poll:
We are nearly through the Alternate Reality Week of the 2012 primary. Rick Santorum won two caucuses and one ballot test which assigned no delegates. This gave him "momentum." He joined two other candidates (not Ron Paul; I'll get to that in a bit) at a conference of conservative activists, with a straw poll that, historically, has only fitfully predicted the Republican nominee.
__
Like magic, it all mattered. Public Policy Polling's latest national poll (there's no some thing as a national primary, etc etc, rabble rabble) puts Santorum in the lead…
As further proof that yes, the GOPers really are just that stupid, the Washington Post is running one of its sidebar polls: Do you support the White House's new compromise on contraceptive coverage for women? And the NO vote percentage is standing at — you guessed it — 27 percent!