I'm reading Saul Alinsky's Rules for Radicals, not because Alinsky is our co-pilot at Balloon Juice and not because Newt Gingrinch doesn't want anyone to read the book, but because the title has the word "rules" in it. There are rules for that? Great. Why didn't anyone tell me? I love the book. There's a reason Newt Gingrich doesn't want us reading it.
I'm helping our statehouse candidate with his campaign finance filing, so I went to campaign school yesterday in that same spirit. It's easier to take instruction than make it up as we go along. The Ohio Democratic Party puts on campaign school and it's for Democrats who are first-time candidates running for state or local office. I got there late and left early because I didn't account for time lost due to an oddly Cleveland-specific snowstorm on the way in, and then I didn't want to get trapped there for the weekend on the other end, but it was really very helpful. They had a good turnout. There were about a hundred people there, and that's in a snowstorm at 9 o'clock on a Saturday morning.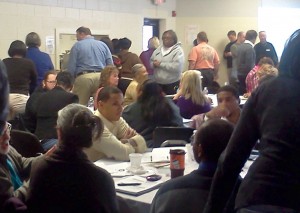 I learned about the "vote deficit number", which involves averaging the Democratic vote total over three (losing) races and subtracting that number from 52% of the average total vote in those same elections. That's the vote deficit the Democratic candidate will have to make up in conservative districts or areas in any particular race. Ours is very, very high, I'll just admit that up front. We're drowning in deficit.
I also learned about the Rule Of Halves, which we have observed here locally, except we call it the 50% Rule, so, it turns out, we already knew it. This rule dictates that if one invites 100 people to an event or political gathering, 50 people will show up.
We had an impromptu presentation from a union member who is running, and that was about rules too, although he called his rules "protocol". He said if the candidates are unfamiliar with labor endorsements or donations, they have to learn the protocol, which involves contacting the labor council first, filling out the candidate questionnaire (ALL OF IT!) and then using that first labor endorsement to get in the door for any additional labor endorsements they are seeking. I don't think John (the candidate) is going to have any problem with labor protocol, because he's a member of a labor union, but Dear Leader Saul Alinsky writes that people don't understand things that are beyond their own experience intuitively or magically, and one shouldn't assume that they do, so I'm glad the union member stood up.