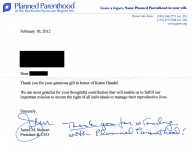 I had forgotten that I had given Planned Parenthood a few bucks in honor of Karen Handel, until I got this formal acknowledgement from my local affiliate, which made me laugh (as always, click to embiggen). I think my next donation will go out in honor of Nancy Brinker, who billed the Komen foundation $133K in expenses, including first-class air travel, while she was employed by the State Department as the Chief of Protocol.
Here's the donation link, and here's why you donate:
I had a pelvic scan and they found a huge cyst in my uterus. "The size of a grapefruit" the doctor told me, as if it were a thing to behold. They removed the cyst, and prescribed birth control pills to help keep a new cyst from forming. There's where the trouble started.

I went to the local Walgreens to fill the prescription. I was on my parent's insurance, and didn't know the ins and outs of what was and wasn't covered. When I went to pick up the prescription, it rang up at $80. For a one month supply. "What about insurance?" I asked. The heinous woman behind the counter said, as loudly and as self-righteously has she could, "insurance doesn't cover BIRTH CONTROL! ! ! !" She didn't say "you SLUT" but I know that she was thinking it.

There was no way I could afford to spend over $800 a year on this prescription. I was horrified by the way the woman spoke to me. I was going to just have to take my chances that the cysts didn't return. Thankfully, someone, I don't know who, told me that there was a Planned Parenthood on campus.

I went there, and the people were so kind that I cried with relief. The pills to help keep me from getting cysts— which also happen to keep me from getting pregnant if I were sexually active— were free.

I will never forget that experience. It taught me a lot about the importance of having access to women's health care, for my whole body. It taught me first hand about the stupidity of self-righteousness.