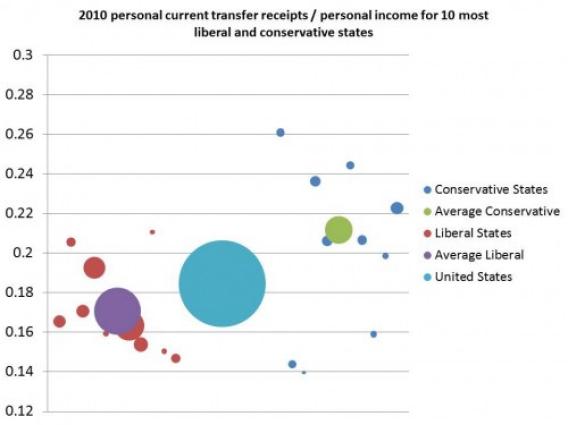 Matt Yglesias, it would seem, is a severely optimistic person:
A very neat Aaron Carroll chart shows that, on average, conservative states feature more "dependency" on federal programs than do liberal ones. You can slice this kind of data in a variety of ways, but you always end up with the same aggregate pattern. It happens to be the case that the richest parts of the United States (think the San Francisco Bay area or Connecticut) favor Democrats and also that conservative areas of the country are overrepresented in the Senate. Transfers, on average, flow away from high-income and underrepresented areas and toward low-income and overrepresented areas. I think the overall pattern is best described as a coincidence and not a pattern of large-scale hypocrisy…
Happily (for the preservation of his libertarian bubble), Yglesias decides that the redstaters are too dumb to understand their essential parasitism; he doesn't spare any consideration for us elitist blue-staters, but presumably our fuzzy-minded philanthropicalism prevents us from cutting off the 'Real American' moochers to devolve into their natural Hobbesian disorder. He also concludes, "[I]n the United States severe zoning makes net migration to the highest-income cities impossible." There are many reasons why (to use his examples) the residents of New Orleans haven't already decamped for Boston, but nothing I have ever heard would lead me to believe that Boston's nanny-state zoning regulations fall anywhere in the top one hundred.
Which gives me an excuse to use Bill Maher's disquisition on "Real Americans" (via):