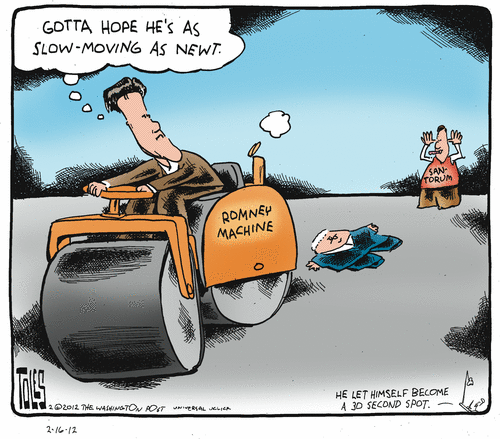 (Tom Toles via GoComics.com)
__
So, Rick Santorum seems to have decided his best chance for the GOP nomination lies (in every sense) at the intersection of Elmer Gantry and It Can't Happen Here. (Retro! it's very hipster, they say.) Or perhaps the pure thin mountain air brings out something in his shriveled, Opus Dei- ridden soul. Paul Constant at Seattle's The Stranger reports:
The ghost of Richard Nixon lingered over the Rick Santorum rally in Tacoma tonight. Washington State Republican Chairman Kirby Wilbur invoked Nixon's name during Santorum's introduction—Nixon was the last Republican presidential nominee to visit Washington before a caucus, Wilbur said—and Santorum launched into his remarks by invoking the 1960 presidential election as a similar moment of discord in our nation's history.
__
Dick Nixon was an appropriate figure to invoke, because like Nixon's presidency, Santorum's speech was plagued from beginning to end by angry young protesters. Members of Occupy Tacoma embedded in the crowd mic checked Santorum on several different occasions. (Occupy Tacoma headquarters were just 500 feet away from the rally site.) Marriage equality activists started a pro-gay-marriage chant that silenced the candidate for something like two minutes, and they encouraged passing traffic to honk in support of marriage equality and taxing the wealthy, adding to the general cacophony. The concrete plaza in front of the Washington State History Museum entrance, with its sweeping coliseum-style seating surrounded on two sides by abrupt, tall brick walls, was a perfect echo chamber, muddling both Santorum's speech and the shouts of protesters into one dull, angry roar. (It didn't help, either, that Santorum was lit from below, to eerie effect, during the speech, or that the podium in which he was speaking was directly above a pair of doors marked, creepily, EDUCATION CENTER.)
__
Not that the protesters were the only angry people there. Santorum drew a crowd of hundreds of angry Washingtonians to the event. One brave man carrying an anti-Santorum sign ("FREEDOM FROM RELIGION," on one side, "Stop the Drama, Re-elect Obama") was followed around the rally by several Santorum supporters pinching their noses and miming as though they were swatting away flies. "I can't stand the smell of this guy," one fly-swatter said, adding, "it's like he's got garbage in his pockets." An old woman told the nose-pinchers, as she squeezed past the whole scene, "Watch out for the maggots." Another woman clucked her tongue, and told her friends, "If you're an atheist, you'll just believe in anything."…
Shades of Rick Perlstein's Nixonland! Ed Kilgore at the Washington Monthly fisks another Santorum rally, and complains:
I don't know if it's because he doesn't have enough money to devise a more subtle message, or because he fears the attacks on him as insufficiently conservative. Or conversely, maybe his poll numbers have gone to his head and he truly thinks extremism in the defense of liberty can be no vice. But based on this press report from a rally in Idaho, Rick Santorum is really losing all inhibitions in expressing the rawest right-wing sentiments on the campaign trail. Gaze in awe and wonder:

Rick Santorum had a Boise crowd in his hands Tuesday, affirming his faith, ripping his GOP opponents and President Obama, and setting high stakes….The crowd was a big part of the event — booing U.S. Sen. John McCain, R-Ariz., calling Supreme Court Justice Ruth Bader Ginsburg "traitor!" and reminding Santorum that American revolutionaries had more than muskets…

Seriously, folks, Ronald Reagan didn't talk this way. Barry Goldwater went about half this far and was eternally labeled the most extremist major-party candidate in U.S. history. If in 2008 Barack Obama had used this sort of rhetoric about the electoral stakes of victory or defeat, or the nature of the opposition, he would have been accused of introducing Kenyan Mau Mau tactics to American politics. Even now, he's called a dangerous demagogue for suggesting Wall Street was partially responsible for the recession, or that the richest people on the planet ought to pay higher tax rates than their employees.
__
Perhaps Santorum's rhetoric will prove his undoing. If Mitt Romney had an ounce of real courage, he'd call him on it…
But then, as Charlie Pierce at Esquire explained in his own critique of the Boise rally:
… This is a speech that should disqualify Santorum not only from any serious consideration as president of the United States, it should be enough to send him so far into the fringes of American politics that he'd have to dial 1 to contact Fred Karger. Within this speech, there are a couple of dozen potential attack ads for any candidate willing to run against Santorum on the Not Insane, Not A Dick platform. This is a speech that has presented Willard Romney with an entire school of very big fish in very small barrels. But he has put himself into a position where he cannot defend the actual science of global warming. He cannot plausibly defend the facts behind the history of the country. He cannot plausibly defend even in a pale and nervous fashion the privacy rights of 51 percent of the American population. But, because of the candidate he's made of himself, Romney cannot plausibly stand for reason, or even for sanity.
Perhaps there is some consolation in the thought that this is, no lie, Good News for President Obama. As Frank Rich muses at NYMag's Daily Intel,
The longer the GOP race continues, the more Romney mimics Santorum's positions on these issues. No matter who the candidate is, it looks like Obama has the gift of running against the anti-contraception party. The only thing that could be better is if the GOP decides to bring back Prohibition.