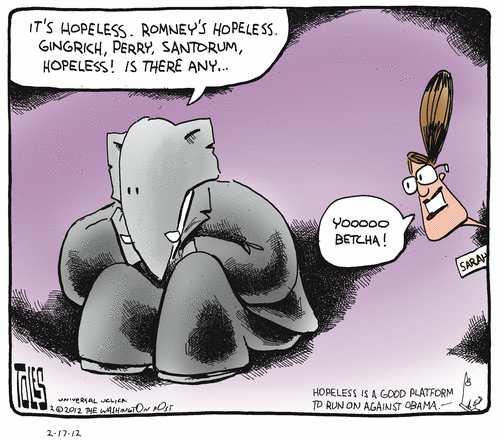 (Tom Toles via GoComics.com)
__
In an entirely different sense, Katrina vanden Heuvel hopes that the progressive backlash against Rick Sanctorom-onius and his ilk might just make 2012 a"Year of the Woman": "It also seems that support for Democratic women candidates is attributable to more than choice and health issues. A poll conducted by EMILY's List on January 31 shows that the issues women consider priorities are the economy, tax fairness, Social Security and Medicare…"
***********
But Cheryl Russell at TNR worries that young people won't turn out to vote this year:
… So why don't young adults vote? That's a vexing question political campaigns have been asking for decades. The most likely answer is that young adults do not vote because many are still—in a sense—children, without adult commitments or responsibilities. The data suggest that three factors consistently make a difference in voting rates: money, marriage, and homeownership. Those are the adult commitments that give people a stake in society; to protect and expand their stake, they vote. Take a look at money and voting: The gap in voter participation between the highest and lowest income groups is a stunning 26 percentage points. For marriage and homeownership, the gaps are 16 to 17 percent.
__
Recent years have seen Americans in their twenties delay starting careers, getting married, and buying homes—and as the road to adulthood has lengthened, voting rates among the young have generally fallen (the notable exceptions are 2004 and 2008). Now, the bad economy is exacerbating these trends. For the nation's young, the Great Recession has turned money, marriage, and homeownership into an impossible dream…
***********
Harold Meyerson at The American Prospect does a take-down on American Select — I mean, Americans Elect — aka "Wall Street's Third Party":
… The digitization of politics is only part of Americans Elect's mission. Its other, greater purpose is to give a voice to what it believes is the "disempowered center" of American politics—thus the requirement that its presidential ticket must represent both parties. What the country needs, Americans Elect insists, are leaders who draw their ideas and support from both parties, from liberals and conservatives. If you press them, Americans Elect's officials go further and say that what the country really needs are culturally liberal, fiscally conservative leaders—leaders whose thinking matches that of the nation's socially enlightened business elites from whose brow Americans Elect has sprung.
__
"What do I want in the ticket?" asks Eliot Cutler, who ran an unsuccessful independent campaign for governor of Maine in 2010 (splitting the center-left vote and thereby helping elect a right-wing Republican) and is a member of Americans Elect's nine-member board of directors. "A ticket that reflects moderate politics, a pragmatic approach to politics, that looks like the Bowles-Simpson Commission in terms of approach—people who reflect my own biases toward social progressivism and fiscal discipline."…
This is actual journalism, as opposed to the Moustache of Understanding's latest tongue bath of Pete Peterson's anti-populist sockpuppet, which calls itself "the Comeback America Initiative". Pete Peterson just wants his Gilded Age back! Being an entitled rich sociopath really meant something in those dear dead days!
**************
Apropos of absolutely nothing, a vintage British bank robbery saga goes Southern Gothic as "19 Years and £1 Million Later, a Past Catches Up".
***********
Brad Plumer at Ezra Klein's Wonkblog (WaPo) wonders how much online shopping has influenced the cutback in Americans' gasoline useage.
***********
And the NYTimes is happy to tell us that "Foxconn Plans to Lift Pay Sharply at Factories in China", which some people say could maybe just possibly be related to the problem that Chinese workers are becoming less accepting of slave-labor conditions.