This is outsourced almost entirely to Wallace Shawn, who is one of those exceptionally intimidating talents who seem capable of making art and engaging ideas in almost any way he chooses.
He's got a new book out, (that would be a new book in 2009; yes I'm that slow) which I'm about to buy, titled, simply, Essays.  Commenter Arundel pointed me to this selection from that work, (an addition to the paperback) a piece published in 2011,  titled "Are You Smarter than Thomas Jefferson."
It's a genuinely wonderful example of essay-form, a direct descendent from the ur-specimen we credit to Montaigne.  Shawn puts on a masterly display, demonstrating  just how much power derives from the concentration of a sharply individual point of view on experience and ideas — which is the essence of the personal essay.
In this case, it's the gaze of a man of the theater that leads us into a sequence of images and thoughts that land at a devastating moment of moral vision.Beyond the story it tells in its own frame, the piece captures for me some large part of why our current politics leaves me so full of dread and sorrow.
And with that, let me turn over the podium to Mr. Shawn, adding only that there's more and better (for not being chopped and excerpted to avoid the charge of simply stealing the piece):
I've sometimes noted that many people in my generation, born during World War II, are obsessed, as I am, by the image of the trains arriving at the railroad station at Auschwitz and the way that the S.S. officers who greeted the trains would perform on the spot what was called a "selection," choosing a few of those getting off of each train to be slave laborers, who would get to live for as long as they were needed, while everyone else would be sent to the gas chambers almost immediately. And just as inexorable as were these "selections" are the determinations made by the global market when babies are born. The global market selects out a tiny group of privileged babies who are born in certain parts of certain towns in certain countries, and these babies are allowed to lead privileged lives. Some will be scientists, some will be bankers. Some will command, rule, and grow fantastically rich, and others will become more modestly paid intellectuals or teachers or artists. But all the members of this tiny group will have the chance to develop their minds and realize their talents.

As for all the other babies, the market sorts them and stamps labels onto them and hurls them violently into various pits, where an appropriate upbringing and preparation are waiting for them.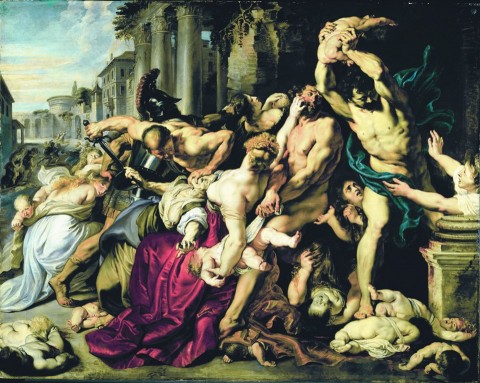 If the market thinks that workers will be needed in electronics factories, a hundred thousand babies will be stamped with the label "factory worker" and thrown down into a certain particular pit. And when the moment comes when one of the babies is fully prepared and old enough to work, she'll crawl out of the pit, and she'll find herself standing at the gate of a factory in India or in China or in Mexico, and she'll stand at her workstation for 16 hours a day, she'll sleep in the factory's dormitory, she won't be allowed to speak to her fellow workers, she'll have to ask for permission to go the bathroom, she'll be subjected to the sexual whims of her boss, and she'll be breathing fumes day and night that will make her ill and lead to her death at an early age. And when she has died, one will be able to say about her that she worked, like a nurse, not to benefit herself, but to benefit others. Except that a nurse works to benefit the sick, while the factory worker will have worked to benefit the owners of her factory….

…

Even those of us who were selected out from the general group have our role and our costume. I happen to play a semi-prosperous fortunate bohemian, not doing too badly, nor too magnificently. And as I walk out onto the street on a sunny day, dressed in my fortunate bohemian costume, I pass, for example, the burly cop on the beat, I pass the weedy professor in his rumpled jacket, distractedly ruminating as he shambles along, I see couples in elegant suits briskly rushing to their meetings, I see the art student and the law student, and in the background, sometimes looming up as they come a bit closer, those not particularly selected out — the drug-store cashier in her oddly matched pink shirt and green slacks, the wacky street hustler with his crazy dialect and his crazy gestures, the wisecracking truck drivers with their round bellies and leering grins, the grim-faced domestic worker who's slipped out from her employer's house and now races into a shop to do an errand, and I see nothing, I think nothing, I have no reaction to what I'm seeing, because I believe it all.

I simply believe it. I believe the costumes. I believe the characters. And then for one instant, as the woman runs into the shop, I suddenly see what's happening, the way a drowning man might have one last vivid glimpse of the glittering shore, and I feel like screaming out, "Stop! Stop! This isn't real! It's all a fantasy! It's all a play! The people in these costumes are not what you think! The accents are fake, the expressions are fake — Don't you see? It's all –"

One instant — and then it's gone. My mind goes blank for a moment, and then I'm back to where I was…
As I said, there's more, presented as Shawn intended.  Go read the whole thing.
Image:  Pieter Paul Rubens, The Massacre of the Innocents,  1611 or 1612.