Via Ezra Klein, this graph: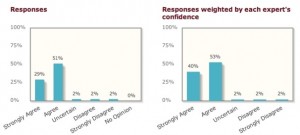 So 80% of the economists think the stimulus created jobs, yet for some reason these folks are still running the show globally:
Specifically, in early 2010 austerity economics — the insistence that governments should slash spending even in the face of high unemployment — became all the rage in European capitals. The doctrine asserted that the direct negative effects of spending cuts on employment would be offset by changes in "confidence," that savage spending cuts would lead to a surge in consumer and business spending, while nations failing to make such cuts would see capital flight and soaring interest rates. If this sounds to you like something Herbert Hoover might have said, you're right: It does and he did.

Now the results are in — and they're exactly what three generations' worth of economic analysis and all the lessons of history should have told you would happen. The confidence fairy has failed to show up: none of the countries slashing spending have seen the predicted private-sector surge. Instead, the depressing effects of fiscal austerity have been reinforced by falling private spending.

Furthermore, bond markets keep refusing to cooperate. Even austerity's star pupils, countries that, like Portugal and Ireland, have done everything that was demanded of them, still face sky-high borrowing costs. Why? Because spending cuts have deeply depressed their economies, undermining their tax bases to such an extent that the ratio of debt to G.D.P., the standard indicator of fiscal progress, is getting worse rather than better.

Meanwhile, countries that didn't jump on the austerity train — most notably, Japan and the United States — continue to have very low borrowing costs, defying the dire predictions of fiscal hawks.
Kthug goes on to ask "So what will it take to convince the Pain Caucus, the people on both sides of the Atlantic who insist that we can cut our way to prosperity, that they are wrong?"
The answer of course is nothing. Nothing will convince them they are wrong. This is not about facts or data our actual outcomes, this is about their religion. This is about faith. Nothing will prove to them that they are wrong, because they believe. You will have more luck convincing the Pope there is no God than you will convince a wingnut economist that no matter how low you cut taxes, government revenues will still increase. They just believe.