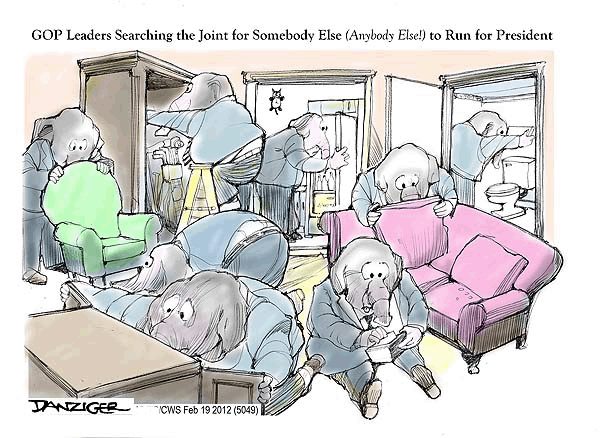 (Jeff Danziger's website)
__
When EventheNewRepublic says "Mitt Romney's Presidential Prospects May Not Be Salvageable", and yet in terms of scaring off swing voters "Senator Santonarola Can't Help Himself", what's the GOP to do? Fortunately (for horserace political reporters and satirists in all media), Charlie Pierce at Esquire perceives hints from a certain D-list celebrity:
Princess Dumbass Of The Northwoods… favored us with a President's Day message on YouTube that has been interpreted as her ever-coy announcement that she's willing to accept a draft at a brokered convention in Tampa, provided it comes with a car and a driver, and a clothing allowance, and 229 days paid vacation, and that she'll be glad to accept just as soon as they pry the Republican National Committee (and Todd) out of the Mons Venus in time to start the convention….
Bonus only-in-America points: Lap dancers rated on Yelp!
What other cheerful happenstances are on the agenda, this evening?