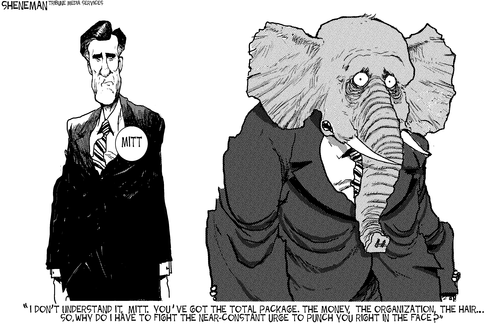 (Drew Sheneman via GoComics.com)
In case the loathly shenanigans of Rick Santorum may have distracted anyone from the deep and abiding dishonesty of Willard "Mitt" Romney, Mr. Charles Pierce at Esquire provides a history lesson for those of you not living in our beloved Commonwealth:
… [T]he centerpiece of the days in which Willard was still interested in being — we'll get to that in a minute — was his attempt to use his mighty presence to reconfigure the Massachusetts political culture. In 2004, he committed himself (and most of his credibility) to getting more Republicans elected to the state legislature. He really went balls-deep on this one, putting together a slate containing 131 candidates, more than the Republicans had put up to contest the legislature's 200 seats in over 10 years. He campaigned hard for his "reform" ticket.
__
Whereupon it sank without a trace. The Democrats actually picked up two seats in the House and one more in the State Senate.
__
Which is about when Willard decided he'd stop being governor and start trying to be president. The Globe series quotes him memorably telling the newspaper's editorial board, not long after his reform effort went under the waves, "From now on it's me-me-me."…
__
The final Romneycare bill had an employer assessment fee in it. Republicans screamed that it was a new tax. Romney vetoed that part of the bill, sending his Democratic allies into the ionosphere with rage. They put the fee back in by overriding his veto, but the ill-feeling still remained. Willard had gotten what was going to be the centerpiece of his inevitable presidential campaign, and he'd gotten to look like an anti-tax hero at the same time. This chronic determination to walk on both sides of the street is nothing new, I assure you.
__
It was about at this point at Romney had his famous revelation on social issues — in which, I believe, an angel came unto him and said, "How do you think these things will play in Iowa, dude?" — and he proceeded in his limitless ambition to betray almost everyone else who was left to support him. He double-crossed the state legislature on stem-cell research. He began stumping for abstinence-only sex education. He completely reversed himself on a woman's right to choose; in 2002, he'd said his support of it was "unequivocal". He began crusading against gay marriage…
__
On the stump today, this is the material from which he constructs the fictitious character of Willard Romney, Embattled — Yet Severe — Conservative. He brags about all the bold vetoes he cast. What he doesn't mention in the fact that, according to figures compiled by the Globe for its series, the Massachusetts House overrode his vetoes 99.6 percent of the time. It was worse in the Senate. There, Romney was overriden every single time — often, as the Globe points out, unanimously. The numbers of overriding his line-item vetoes are even more preposterous; of his 283 budget vetoes in 2006, the Globe found, Romney couldn't even get a single Republican to vote for him on 81 roll calls in the state senate, and on 60 roll calls in the Massachusetts House. As governor, his approval ratings never went above 50 percent after March of 2005, and he left office with a miserable 34 percent approval rating to take with him out into the wider world. The Commonwealth had grown very sick and tired of being used as a test-track for Willard Romney's ambitions.
The difference between Santorum and Romney is that Little Rick really, truly believes that his Opus Dei God has appointed him to serve as the cilice cinched around every American's private parts. Willard, on the other hand, merely believes that if this week's quorum of GOP godbotherers wants him to serve as the cilice cinched around every American's private parts, well, us gentiles should've read the small print in the footnotes appended to the subcontract on page 237 section xlxcvii before humbly donating our votes to his Presidential ascension.
I believe the technical legal-philosophical term for this would be "a distinction without a difference."