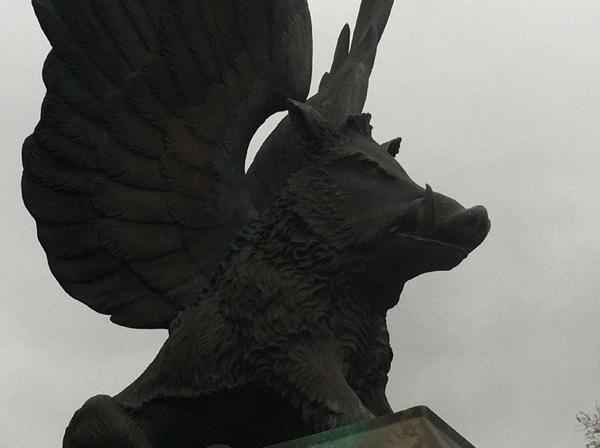 Much as Tom Friedman gleans man-on-the-street wisdom from the cabbies who ferry him to and fro, I sallied forth from the Cracker Cloister yesterday to mingle with the common folk, securing priceless insights that I will share directly. Unlike Friedman, I didn't board a G6 and fly to Aspen to pick up a $75,000 speaking fee.
Rather, I played hooky along with my teenage daughter to visit a couple of theme parks, including a park that has a section devoted to a fictional young sorcerer. The fiction-based city to which we traveled for this purpose should be renamed "Or-LINE-do" since visitors spend the majority of their day languishing in queues. There were lines to access the $15 parking lot. Lines to pay an outrageous sum to visit the parks. Lines to have our bags searched. Lines to hear a sales pitch before paying $29.95 for a plastic replica of a wizard's wand.
There were even lines for lunch seating at The Three Broomsticks tavern and the privilege of paying $40.00 for a bagged salad that reeked of chlorine, a dollop of runny mac 'n cheese accompanied by a sad cluster of grapes and souvenir tankards of "Butterbeer" (which turns out to be cream soda topped with an oilier incarnation of Cool Whip). Anyhoo, it was at The Three Broomsticks that I obtained "cabbie wisdom" by briefly eavesdropping on the conversation of a pair of 20-something women at the adjacent table.
As they consumed THEIR $20 bagged salads, the young women's discussion turned to the upcoming Republican debate. They admitted to one another that they hardly pay attention to politics at all and hadn't watched the previous debates, but both expressed interest in seeing that evening's tussle. Why? Because they were alarmed about what they'd heard regarding the Republicans' wholesale assault on women's rights and birth control.
So what did the young women see if they tuned in last night? This and this and this and this, etc.
Thanks to the monsoon that greeted us as we exited our final ride of the evening and the extraordinarily long line in the parking garage that resulted when everyone fled the parks at the same moment, we didn't get home in time to see the entire debate, though we did catch the tail end of it and the silly Republican gasbags analyzing it on CNN. There was the one with the Friedman-like mustache, sans "understanding." There was Eponymous Eponymouson of RedState — whose vertical cranial dimensions have expanded alarmingly or else I need to adjust my TV settings. And there was that sallow scold who used to collect a paycheck for lying to the press on behalf of the Bush administration.

If I recall correctly, this trio — to a man — acknowledged that all this talk of separating sluts from their contraceptives might redound to the discredit of the party in the short-term. But all expressed hope that the empty-headed trollops would be consumed with more pressing issues come election time, like the cost of the fuel they expend as they drive their Camrys from one irresponsible sexual tryst to the next.
One of the women on the panel threw cold water on that hope, saying that women "don't forget" and pointing out that the GOP already had a gender gap problem before its presidential slate decided to channel the town fathers in The Scarlet Letter. If my chance encounter with the formerly apolitical young women at The Three Broomsticks is any indication, she's right.
[X-POSTED at
Rumproast
]