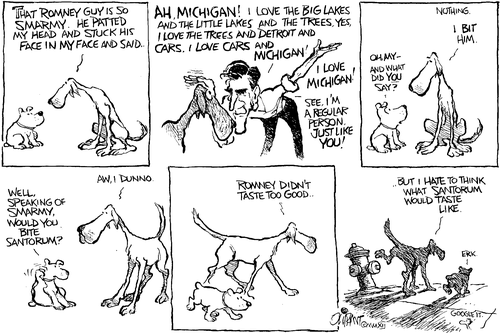 (Pat Oliphant via GoComics.com)
Karl Rove stands athwart the tracks of history and shouts Nay! He has the math! And we all know what Karl Rove's math is worth. Now, if we're talking about a "contested" convention…
A contested convention, on the other hand, would see no dark horse enter but none of the existing candidates arrive in Tampa with a 1,144 majority of delegates. Lots of wheeling and dealing would ensue, and after several ballots a nominee would emerge from the four current candidates…
__
… This last happened for the GOP in 1976. Neither President Gerald Ford nor Ronald Reagan had a majority when delegates arrived in Kansas City. The nomination was decided by the unpledged Mississippi delegation swinging in behind Ford. But there are far fewer delegations in 2012 that will arrive in Tampa unpledged…
Yeah, a dedicated operative-for-hire and lifelong ratfvcker can but dream. IIRC, the Kansas City convention didn't work out so well for the eventual nominee, but it did cement the ascendency of the modern GOP's Unholy Trinity — authoritarians, fundamentalists, and freemarketeers. And I've heard the gathering itself was quite the circus, as well. From the WSJ comments:
I can see it now , exclusivly on FOX, "American Idol, the GOP Convention". Hosted by Tim Tebow and with expert analysis of Sarah P, Kim K. and a cast of thousands.
__
It would be a perfect "reality" ending to the GOP "reality show" this primary season has become. It would be a hoot!!
Hoot, you primates, hoot!