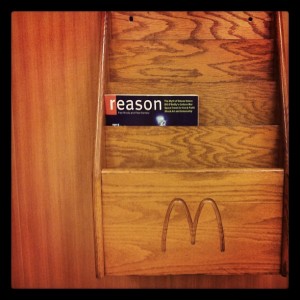 DougJ touched a nerve earlier, and I'll just say you won't see this kind of shit too often outside the red light district in Amsterdam:
Full disclosure: my husband once had a fellowship with the Charles G. Koch foundation, and works for Reason Magazine, which has been a recipient of funds from Koch charitable organizations. We also sometimes use Vanity Fair paper napkins and Dixie brand paper products, which are owned by the Kochs.
Say what you will about fluffers in the porn industry, but they're not afraid or ashamed to admit whose dick they are sucking and know better than to pretend that that really isn't a dick in their mouth- not to mention they would at least have the professional courtesy to know better than to try to slap this sort of flaccid bullshit in your face.
Criminy. How long before the Fonzi of Freedom has a job at the Atlantic?