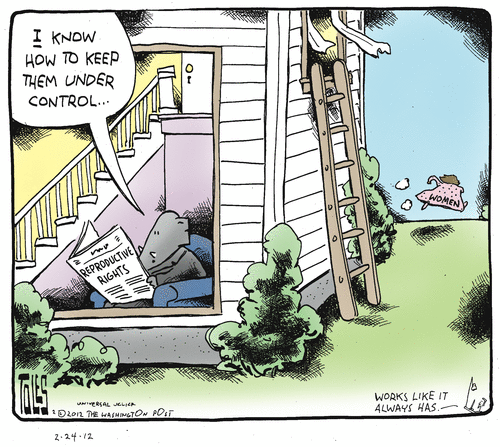 (Tom Toles via GoComics.com)
Indiana's own Doghouse Riley provides a news update from the field:
Perhaps you heard, in one of those "Pig Ignorant News Roundup" or "Signs the Coming Apocalypse is Wholly Justified" segments, about Indiana State Representative Bob Morris, who explained in an email to his Republican colleagues that he didn't join in a resolution honoring the 100th anniversary of the Girl Scouts because "a small amount of web-based research" had proven to his satisfaction that the Girl Scouts' real mission was turning America's self-identified girls into Satanic, pro-abortion, Sapphic analinguettes, using instructional materials thoughtfully provided by Planned Parenthood. The apparently contradiction–that turning girls into lesbians would interfere with Planned Parenthood's mission of giving every teenager in America an abortion before age 16–can probably be resolved by doing a slightly larger amount of web-based research…
__
Anyway, tacked onto whatever news coverage you may've seen was the quick action of House Speaker Brian "Jesus is my Tambourine Man" Bosma, who spent the day passing out Thin Mints. You know you've gone round a big, and possibly un-retraceable, bend when Brian Bosma goes out of his way to call you nuts. This, of course, proved to our newscasters' satisfaction that Republicans aren't some religiously-mazed gang of anti-sex weirdos who'll fall for any piece of urban legend that touches them in their secret hot spots. Just a lone nut.
__
My personal favorite, though, you probably missed, unless you too are subjected to local Indianapolis teevee: Democrats, faced with a golden opportunity to simply point at the sheer mouth-foaming insanity on the other side of the aisle, instead dug up a picture of Ronald Reagan surrounded by Girl Scouts! Take that, single crackpot Representative his own party had already pummeled half to death!
What's on tonight's agenda that isn't a Klown Kar full of paid-up He-Man Wimmen Haters Club members?